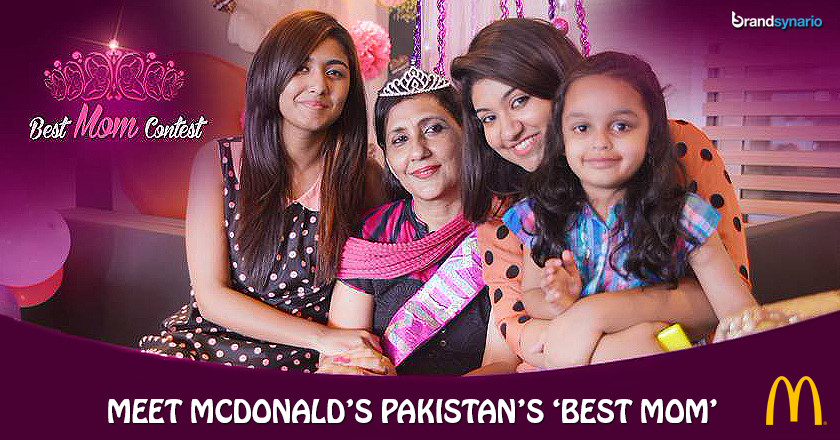 Pakistan's advertising has survived and thrived on the objectification of motherhood for almost every relevant and irrelevant brand. Be it a cooking oil, a shampoo or a mattress, every brand has a mother whose sole purpose in life is to look good and cuddle the child actor to portray motherhood.
The irony of the situation is that our ammis are in no way similar to those skinny dolled up ladies shown in our ads; they are cuddly, soft and warm. Fortunately, not all is lost; McDonald's Pakistan still have the passion to honor real life mothers who are actually on job 24/7 365 days a year. 
The fast food giant has made millions of its customers to hug their mothers tight with its latest social media campaign on Mother's Day celebration – 'Best Mom Contest'  
The contest called the audience to send in their short stories on what makes their Mother the 'Best Mom'. With an overwhelming response of 700+ entries in a short time span of just 3 days, the team behind the campaign had a difficult task to choose a winner from touching stories.
The stories ranged from mothers caring for their children in sickness, paying for their college tuition by selling their own assets, to stories that describe a mother-in-law as the best mom.
Adeeqa Lalwany from Karachi was the chosen  winner and her mother Izzat Lalwany, who was a perfect reflection of millions of moms in Pakistan, became McDonald's Queen of the Day! 
McDonald's Pakistan's team made sure that Izzat, an everyday mom who never expected to be treated like a royalty gets the time of her life.  From the grand reception at McDonald's to the wonderful crowning and cake cutting ceremony, till the games and activities that brought the family closer it was an afternoon to remember! And of course the day wouldn't be complete without a scrumptious McDonald's meal. That is always a happy add-on!