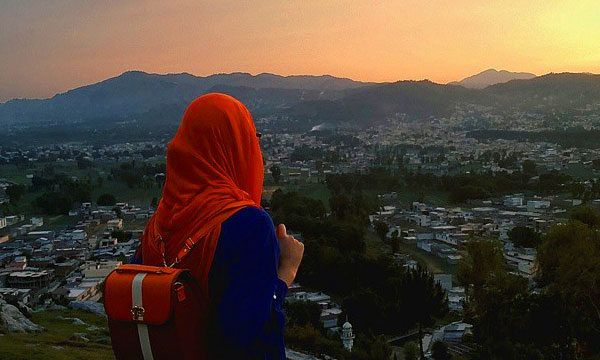 Mahoor Jamal, aka EMJAY, is a young Fashion Design student and a budding artist from Peshawar, known for her beautiful portraits and stunning fashion illustrations.
An introvert by nature, Mahoor is not only skilled at drawing and painting but is also artfully talented at photography, as seen by her pictures at her Instagram account. She gives social media networks, especially Instagram, credit for inspiration for her artwork and for recognition as an artist, both locally and internationally.
With a following of more than 4,600 people on Instagram, this budding artist creates breathtakingly beautiful and intense images that lend a window into her mind.
Take a look at some of the images posted on her profile.
According to Mahoor, as stated in an interview by Twittistaan, 80% of her paid artwork has been commissioned via people she met at Instagram.
Read more: Pakistani Artist Gets International Fame for Urdu GOT Mugs
After having failed to enter medical college and pursue her parents' wish to become a doctor, Mahoor was encouraged by her mother to take up a career in what she does best: art. Currently, only in her 4th semester as a student of Bachelors in Fashion Design, Mahoor has already won many art competitions.
"I participated in my first ever art competition last year. My mother cried over the phone when I told her I'd won."
Her stunning attention to detail, precise ink works and fabulous color selections are truly remarkable and award worthy. Mahoor believes in doing the very best at what one is passionate about and her artwork is evidence enough for her belief.
Read more: Obama's Family Painting by Lyari's Talented Artist Goes Viral
An absolute sweet tooth, Mahoor loves nothing more than a fridge full of sweet goodies. And, her idea of a perfect moment of happiness? Sitting alone in a quiet corner, with muffins, a cup of tea and her sketch book and doing what she does best.
For ordering portraits or hiring Mahoor as a freelance fashion illustrator, contact her at her Facebook page, EMJAY.
We, at Brandsynario, wish this beautiful mind and budding, talented artist loads of luck for her present and future endevours. It is a rare and remarkable talent to be able to create such vivid and striking masterpieces at such a tender age.