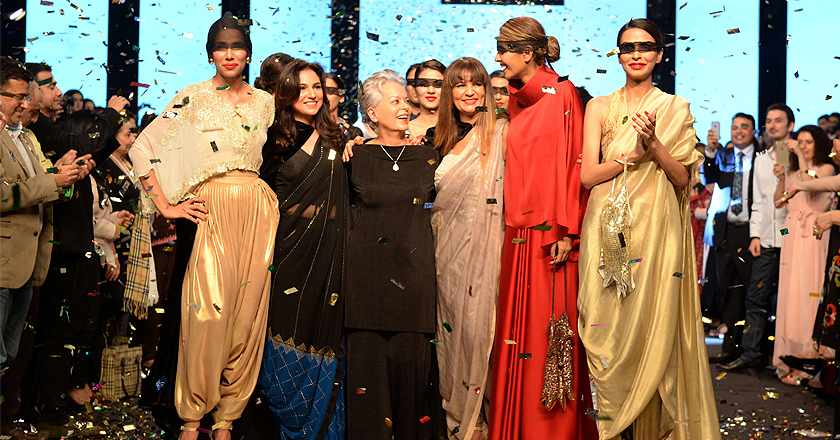 In a bid to revive the dying silk weaving craft found in Banaras Colony, Karachi, the House of Maheen has included rich fabrics woven by the unsung master craftsmen who live and work in this neighborhood.
The silk hand loom industry is in danger of becoming a lost heritage as commercial polyester options outnumber hand woven silk alternatives.
This collection is a pre-cursor to her soon to be launched design initiative – 'Virsa', a collective of high-end designers who will provide sustainable solutions to this group of artisans through creative consultation and pattern guidance to breathe new life into this dying craft.
Check out Maheen Khan's Fashion film here:
The iconic designer recently showcased her collection 'To karachi with Love'as a farewell at the finale of Fashion Pakistan week on November 28th, 2014.
Speaking about her collection for the Fashion Pakistan Week, Maheen Khan has said, "TO KARACHI WITH LOVE is a celebration of everything we love about the city of lights. The sixties and seventies with the trendy cafes, shops, cinemas to the nightclubs and discotheques, where the sophisticated set arrived like beautiful swans out for an evening swim and onwards to today."
The collection is inspired by the uber-sophisticated women of Karachi from the sixties and seventies, who were rooted in the east but modern in their interpretation of the eastern styles. Coats, capes, capelets were borrowed from the west to complete the sari, the gharara, or the shalwarkameez. Embroidery was minimal but the ensembles oozed glamour. "The woman I'm dressing is very much centered in the 21st century …" according to Maheen Khan.