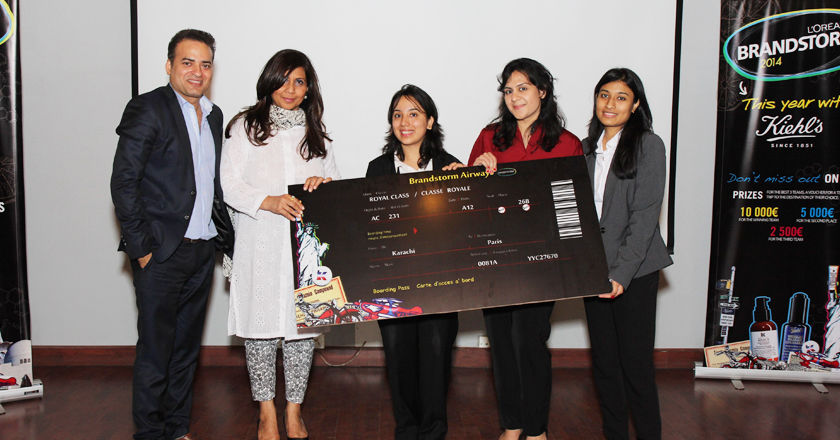 The national finale of LÓréal's marketing competition, Brandstorm 2014 was held in Karachi. Team Gravity fromLUMS, which included Syeda Saba Rashid, Sidra Ahmed and Muneeba Shoaib are the proud winners of the competition. The team won against the Team UHF of the same University, which included Farhan Syed, Hira Amjad and Usman Hayat.
The winning team, will now be receiving a trip to Paris for competing with international teams from all around the world in June this year. The 3 winning teams of the global competition will win vouchers of €10,000, €5,000 and€2,500 respectively for team trips to countries of their choices.
It was the very first time that LÓréal Brandstorm was introduced in Pakistan, in which entries from only two top business schools of Pakistan were accepted, which included LUMS from Lahore and IBA from Karachi.
L'Oréal Brandstorm commenced in December 2013 and ended in February 2014, the Managing Director of L'Oréal commented about the competition in these words,
"L'Oréal Brandstorm is a unique initiative undertaken by L'Oréal to stimulate creative thinking and to encourage young marketing professionals to come up with original solutions for traditional and contemporary marketing problems. We are proud to introduce the marketing competition in our partner schools for the very first time in Pakistan and are thrilled by the response we have received thus far. We look forward to even more participation next year!"
L'Oréal has initiated the Brandstorm phenomenon back in 1992, since then the phenomenon has grown to become an internationally recognized event, waited by many to participate each year from all around the world.
In order to gain more information about the event, the facebook page of L'Oréal Brandstorm Pakistan andinternational can be viewed.