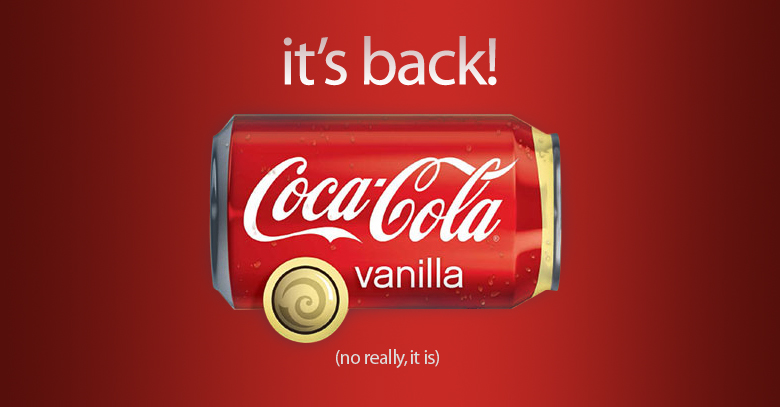 By Shiza Aslam
April 2013 -After six years of self exile from the market, Coca-Cola re launched its Vanilla brand under the name of 'V Coke' as it looks to boost up overall sales of its brand portfolio.
Coke's Vanilla variant returned with improvised branding after various requests from social media fans worldwide.
"There has been huge consumer demand for the return of Vanilla Coke so we were really excited about bringing back the variant to the Coca-Cola family. It's the product that consumers ask us to re-introduce most frequently and we're excited to be able to do so, whilst marking the tenth anniversary of flavors," says Zoe Howorth, Marketing Director for Coca-Cola, Great Britain.
The brand has been rejuvenated and has limited availability across UK. The vanilla Coke might be released worldwide after scrutinizing the sales in UK in its first few months.
The 'V Coke' is being promoted through all media platforms including print, outdoor, online and social media to create 3600 awareness.
Coke claims the brand was the best-selling Coke-flavored variant of the noughties over Cherry, Lime and Lemon when it was pulled out of the market in 2006.
Reports, at that time, claimed it was axed, along with Vanilla Diet Coke, due to poor sales. The company now, however, claims a 'noticable' demand from Vanilla Coke's fan which led to the decision of bringing the drink back in the market.
Coca Cola has been speedily expanding in Pakistan through extensive advertising and marketing campaigns. Though the V Coke is to be re launched in UK only, Pakistanis have already showed positive interest in this variant. Let us know if you were aware of V Coke.