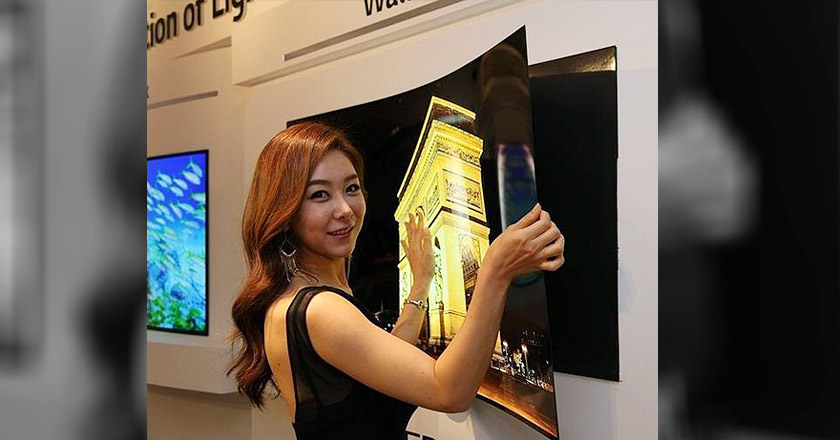 LG just unveiled a 55-Inch Wallpaper OLED display panel and it is unbelievably thin. Yes, the name says it all; it is thin like wallpaper.
This marvel is one of the most impressive spectacles of screen display technology by LG is just 0.97mm thick and weighs only 1.9KG.
LG Display Co. a subsidiary of LG for manufacturing screens and display panels is responsible for this impressive feat. This OLED (organic light-emitting diode) panel hints at the future plans of LG.
As Yonhap, a Korean news agency reported: 'The wallpaper OLED display panel is so thin that it can be stuck to a wall using just a magnetic mat before being peeled off like wallpaper'.
Although this beautiful detachable OLED display is much thinner than flagship LG OLED TVs, this is most probably the result of not incorporating the high tech circuitry that enables it to perform as a TV. It is speculated that the electronic circuits are hidden somewhere off the screen.
This wallpaper display is most probably not a commercial product yet but it signals to the high soaring ambitions of LG Display Co. to continue to experiment and drive forward with its OLED technology.
Unlike LED displays, OLED displays don't need backlights to illuminate the screen. The light used to illuminate its screen come from the back current.
Although OLEDs are much thinner than its rival technologies OLED displays are quite tricky and complex to manufacture and this translates into really high prices for these displays. Some of the most successful competitors like Sony and Samsung have moved away from the technology for the very same reason.
However, this detachable new OLED panel is being touted as the future growth engine by LG. LG has planned to push on this path and the seven new OLED TVs unveiled by LG at CES this year has proven this.
Let's hope this technology catches up so we can take our TVs with us just like a sheet!