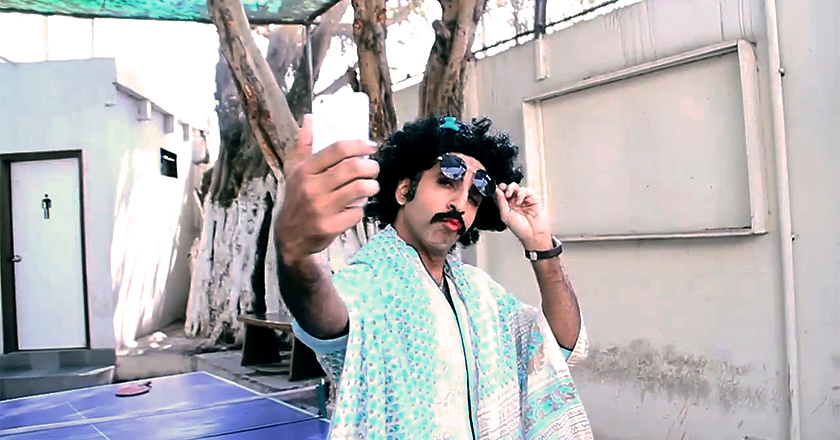 Khalid Malik – the renowned host of 'The Breakfast Show' on CityFM89 has released the season 2 of his brand 'Malika Lawn'.
Initially started as a spoof last year, Malika Lawn was aimed at making a parody of the numerous lawn brands in the country – literally every person in Pakistan seemed to be coming out with his/her own brand of lawn and Khalid wasted no time in making fun of them.
This year, once again as brands flaunt their designer lawn, Khalid is back to his old trick, however this time around it looks comparatively poorly executed – as if the video was just made for the sake of following up on last year. buth ey he's pouting and taking selfies!
Back by popular demand…. the MUCH awaited Malika Lawn SEASON 2!!!! A treat for your eyes 89ers!!! Courtesy of Khalid Malik [Official]

Posted by CityFM89 on Wednesday, April 1, 2015
The man who is known as the king of pranksters and has recently acted in various drama serials across the industry. Trained as an actor in Sydney, Malik never lived in Pakistan up until eight years ago when he and his ex-wife, dancer and choreographer Joshinder Chaggar, decided to move to Karachi.
Read More: Khalid Malik in Olper's Lassi
For someone who has never lived in Pakistan and didn't know anyone in the country, his career graph seems to have grown remarkably. From the popular BFS and two feature films (one being Sabiha Sumar's 'Rafina' and 'Josh' alongside Aamina Sheikh) to television serials such as Uraan, Khandaan-e-Shughlia, Chand Pay Dastak and earlier stints at MTV and Aaj as a VJ, Malik has managed to cover quite a bit of ground.
Apparently the man loves to dress in drag as well!
Read More: Domino's Pizza Endorsed By Khalid Malik
But 'Malika Lawn'? Sorry Khalid, Don't think it would be much of a hit.