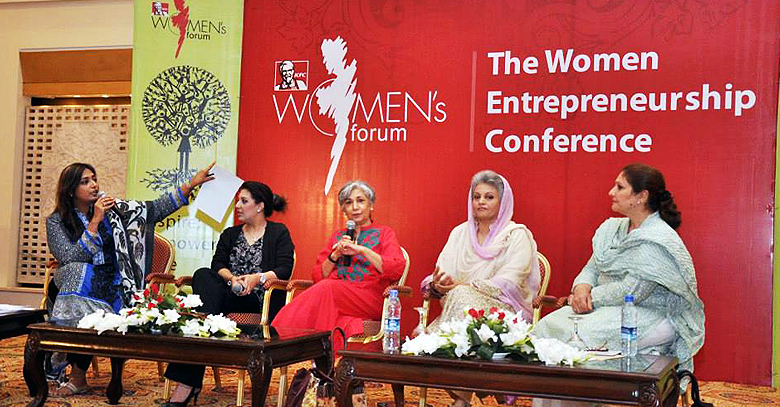 By Hassan Wasti
KFC has always taken an initiative to stay ahead of its competitors. The launch of their Women's Forum is no different. A concept that started way back in 2004 has today grown into a project which has worked tirelessly to promote leading business, service and professional women. 
The members at KFC Women Forum (KWF) are encouraged to enhance their abilities and showcase their achievements. Promoting personal and professional development and encouraging community involvement.
The more recent of its conferences includes the one on Women Entrepreneurship in Pakistan. The conference aims to provide professional insight to working women, facilitating them to have a successful career and professional growth.
Such events have helped many struggling entrepreneurs to become a leading part of the economy and offer them to expand their network through professional connections and the recognition.
The KWF is now making its mark on the social media as well, with an active Facebook page it keeps its members informed about the ongoing and upcoming events. Facebook also helps the organization to spread its message and show what it stands for and has come in handy to welcome the potential members.
The page hosts videos and pictures to show what the organization is really about. This helps the upcoming member to get a clearer view of what to expect from this forum. We need such steps that help our women to overcome traditional taboos and barriers which often keep them away from their rightly earned success and a chance to make a name in the business world.
KWF is an initiative that truly believes in the ability of women in Pakistan. The forum has been responsible in making entrepreneurial ventures of its members a success on many occasions and has made itself into a platform that now has its own recognition in the local community.