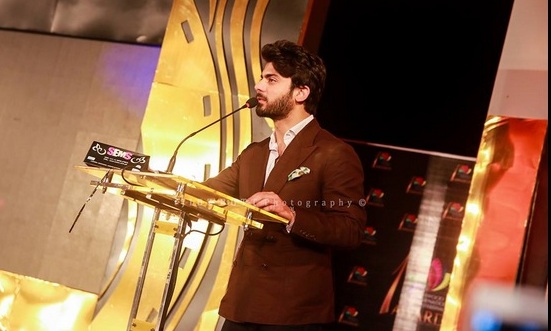 Raising the glitz and glamour quotient, topping it with some star-studded magic and red-carpet razzmatazz, Karawood International Film Festival 2015 (KWIFF) came to an end in all its glory at the award ceremony, held at the PAF Museum last Friday. KWIFF was a dazzling four-day event to honor worldwide entertainment talent, both veteran and amateur, with films hailing from Pakistan, Turkey, Britain, India, Iran and America. Significantly, it raised the bar for Pakistan's regional cinema and provided the limelight it truly deserved.
What's more, celebrities from across the border like Anil Kapoor, Sonakshi Sinha, Farhan Akhtar, Deepika Padukone, Bipasha Basu were roped in to tout the first ever Karawood Film Festival and create more exposure for Pakistan's theater in India.
The screening of a diverse range of international films across four days turned out to be a massive success, with audience coming out in hoards at Cinepax to watch the movies.
Yet, the cherry on the top for Karawood remains its coveted closing ceremony where our nation's beloved glitterati graced the grand occasion. Stars spotted were Adnan Siddiqui, Mustafa Zahid, Shahzad Sheikh, Ayesha Omer, Kamran Gillani, Sarmad Khoosat, Sania Saeed, Nadeem, Sangeeta, Atif Aslam, Fawad Khan and Ali Zafar.
Let's take you to a quick round up to the closing memories of the scintillating award night of Karawood International Film Festival 2015.
Check out the red-carpet looks of the celebrities present at the ceremony.
[fb_embed_post href="https://www.facebook.com/media/set/?set=a.1646404028974871.1073741831.1633006663647941&type=3/" width="550″/]
So after months and years of hibernation Kamran a seasoned actor missing from screen, comes on carpet at #KWIFF15 pic.twitter.com/zGQfHWVsT3

— Moiz Saleem (@Moizperception) September 18, 2015
JIA ALI At Red Carpet at #KWIFF15 pic.twitter.com/n3aYYy7PtW — Sap MV (@SapSpeaks) September 18, 2015
Beauty #KWIFF15 SAIMA AZHAR pic.twitter.com/jvhiSMRT01

— Aliya Hayatt (@Aliyaperception) September 18, 2015
#WhenIWas14 have a crush on @theayeshaomer & now I am 25 😇#KWIFF15pic.twitter.com/dKPGJdXFdj — umer hafeez (@bloggerumer) September 20, 2015
You must watch model's Saima Azhar's back- to- back dance performances to Kala Dooriyan and  Tere Hoke Rahenge.
https://instagram.com/p/7yI6O-sx8f/
Finally some dance moves on pakistani song. Kala doriyan OST #DMPS being played now #KWIFF15 pic.twitter.com/OeF9SFZlpL — Danish Mughal (@danishmandd) September 18, 2015
#KWIFF15 Saima Azhar on Tere hoke rahenge and Kala doriyan pic.twitter.com/924gAHoHdk

— Moiz Saleem (@Moizperception) September 18, 2015
The controversial starlet Mathira too boogied for the award night. Watch a clip from her performance.
https://instagram.com/p/7yYoDPNeQ4/
It was a must for Amjad Sabri to ensure the award night gets a dose of his soulful  Qawwalis. He also received the Lifetime Achievement Award.  
Amjad Ali Sabri live at #KWIFF15 … Amazing pic.twitter.com/EAmT4wW1hr — Umair Yousuf Kh (@umairyousufs) September 18, 2015
https://instagram.com/p/7yOKmYsx5d/
The Rockstar Ali Zafar set the stage on fire with his grooving performance.
https://instagram.com/p/7zhQW9tefi/
But the audience truly applauded for the singer when he grabbed the award of Most Versatile Artist.  
superstar Ali zafar receiving his award at Karawood Film Festival Awards last night.@AliZafarsays#Rockstarpic.twitter.com/4XBgvVhwuh — Aqsa AZian (@Aqsa_AZian) September 19, 2015
Atif Aslam fans must be overjoyed to know that the superstar won the award for the "Voice of the Nation". 
https://instagram.com/p/7yYrBiNeQ9/
But the Man of Karawood International Film Festival was our one and only Khoobsurat King Khan, Fawad! The star won the 'Best International Debut — Male'.
https://instagram.com/p/7yhiYVNefD/
Manto the movie was on an accolade spree for the night and bagged seven awards at Karawood.  
7 awards for @MantoTheFilm at #KarawoodFilmFestival This is just the beginning,many more to come! @KhoosatSarmad 🏼 pic.twitter.com/WcOtizJ5YM — Maham خان #Pakistani (@MahamK97) September 20, 2015
Karawood International Film Festival seemed to have received a warm response for its efforts to encourage the hosting of film fest in Pakistan. While it might have bid farewell for now, hopes are high that it will return, bigger and better to witness the cinema in the nation consistent in it glide across the skies of success.