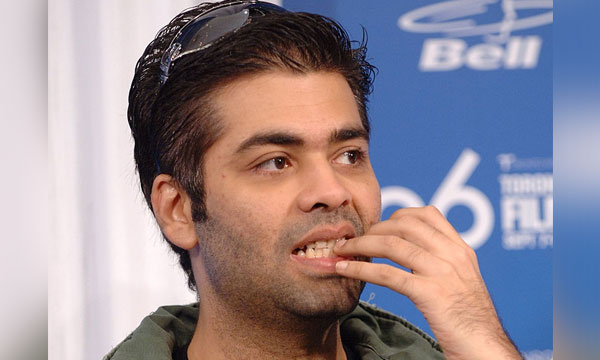 While Karan Johar finally broke silence on Pakistani celebrities ban in Bollywood, the director made it clear that he won't be collaborating with artists from across the border anymore.
It is apparent that KJo is eager to save the upcoming movie Ae Dil Hai Mushkil from the clutches of political chaos.
Karan Johar Insults Singer Mohammad Rafi: India Wants Ae Dil Hai Mushkil to be Banned!
With the rising threats by Maharashtra Navnirman Sena (MNS) against the film and the boycott of his project by 450 Indian cinemas, Johar was bound to declare his divorce from Pakistani celebrities.- even if it had to be from his chocolate boy Fawad Khan!
Ae Dil Hai Mushkil Review: Fawad Khan Commits Suicide in The Movie?
Watch what Karan Johar said about Pakistani celebrities in this video here.
While Pakistan obviously didn't welcome Karan Johar's shocking statements, even the Indians deemed the director as money-minded
Twitter was on fire after KJO released his video. Nobody seemed happy with the director's views and bashed him badly on social media. 
Read what the Indians said here!
#KaranJohar Seriously Man Now u Realized your Love towards your Country Jst coz your movie is in trouble#Ae Fawad Kar di Zindagi Mushkil 😛

— Jaydeep Parulkar (@ParulkarJaydeep) October 19, 2016
Being liberal didnt help my movie now light,camera n action lemme try being patriotic to save my movie #KaranJohar #ADH

— lolkejri (@shekhere) October 19, 2016
After 2 weeks silence, fear of film flopping made Karan Johar finally say he won't work with Pakistani actors anymore. Too little, too late!

— गीतिका (@ggiittiikkaa) October 18, 2016
#karanjohar ur video is a well writtn script #mns @rajthakre it's pure bsness,300 pple r alrdy paid it's only @karanjohar who hs 2 reap nw.

— Rahul Namboori (@RahulNamboori) October 19, 2016
Gadhe ki laat aur karan jauhar ki baat ka koi bharosa nahi #karanjohar

— ABHISHEK KUMAR (@kumarab40711673) October 19, 2016
Please Don't watch #AeDilHaiMushkil #KaranJohar suddenly Realize how Patriotic He is just because his movie just became #AereleaseHaiMuskil

— Anant Tiwari (@r00tHx) October 19, 2016
Money minded #KaranJohar DISTANCE HIMSELF FROM #FawadKhan TO SAVE #AeDilHaiMushkil#Indians #Bollywood #Pakistanihttps://t.co/7cjO4zIrHx

— Asfia Afzal (@Asfia_BR) October 19, 2016
#KaranJohar No one has asked anyone to prove his/her patriotism. Only thse who r t'selves not sure about their leaning think it so.

— Parag Hede (@Indepthcomments) October 19, 2016
y kj bcm patriotic aftr 30 days of uri atck 20 days of surgcl strk and just 10 days before #ADHM ?#KaranJohar

— Yash Patel (@YashKPatell) October 19, 2016
After #UriAttacks #KaranJohar had enough time to replace #FawadKhan. But he thought the cries are political. Failed to read pulse of ppl.

— Miss Marple (@Miss___Marple) October 19, 2016
The guy who overwhelmingly supported Pak actors 2 weeks ago, has suddenly found place for India in his heart #MoneyComesFirst #KaranJohar

— Miss Marple (@Miss___Marple) October 19, 2016
#KaranJohar must b having #KarvaChauth vrat in order to save his film's life & fawad's life as well. 😂#AHDM@Alllahdin

— ITkaBanda (@ITkaBanda) October 19, 2016
Anyone can understand that #KaranJohar messege is a drama & only intention of it is to save his loss from boycott of #AeDilHaiMushkil

— Niraj shaha (@nirajshh) October 19, 2016
Seems like Karan Johar's publicity stunt failed big time! Even after his video made it to the news, the backlash against Ae Dil Hai Mushkil did not subside.
Let's see what the fate of ADHM holds for the movie as it is about to be released in a week on October 28, 2016.
10 Times Fawad Khan Proved that India Will Regret Banning the Hottest Khan in Bollywood!
Stay tuned to Brandsynario for more updates.