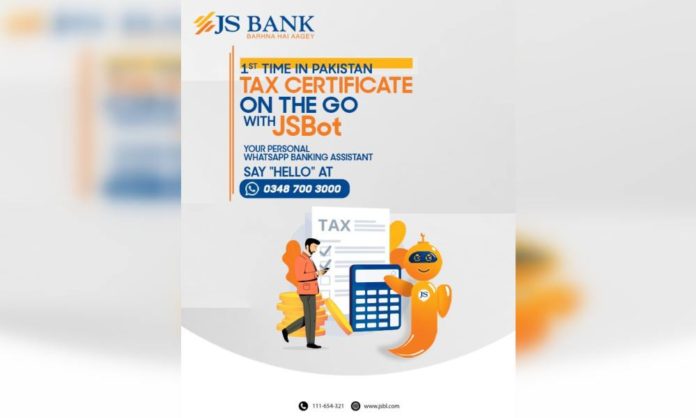 JS Bank achieved a major milestone in simplifying the taxation processes by offering customers to generate their tax certificates instantly through JSBot- Personal WhatsApp Banking Assistant.
Users can simply send a message to JS Banks' dedicated WhatsApp number +92348 7003000, enter required details, and get their Tax Certificate generated instantly for the yearly submission of their tax returns.
Mr. Noman Azhar – Chief Digital Officer stated "The goal is to provide consumers with an unparalleled digital experience and financial solutions that makes their mandatory yet tiresome tasks, like tax filing, easier. We will continue to develop innovative and technology-driven solutions that will enable the migration of our customers from branches to digital channels. For us speed is the name of the game."
JS Bank's WhatsApp Banking service offers a highly convenient, cost-effective self-service banking platform using encrypted messaging functionality for users to access various banking services including Account & Credit Card Inquiry, Location features, Product offerings, Deals & Discounts, Complaint Facility, and many more to come.
With a strong focus on helping Pakistan progress with technology, JS Bank is continuously seeking innovative solutions to serving customers at their preferred touchpoints. Given the proliferation, and convenience of WhatsApp in everyday life, this offering will go a long way in gaining customer engagement and confidence in digital transactions.
To begin your digital experience journey, chat with us on JSBot: https://bit.ly/JS-Bot