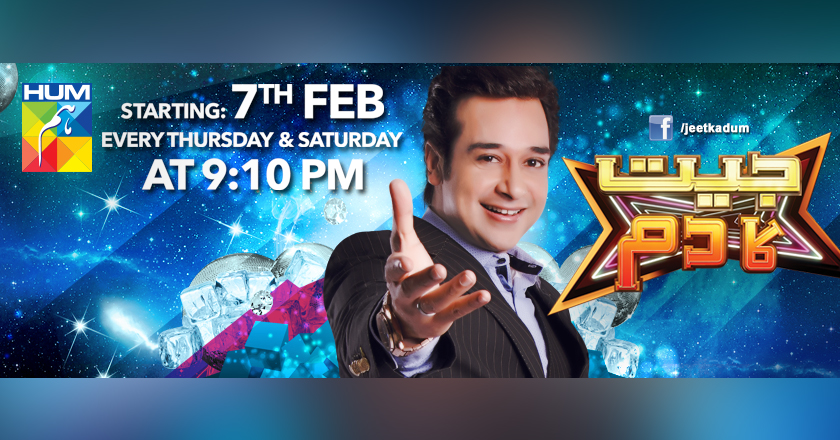 Hum TV is catching up with the TV game show trend with its latest program, Jeet Ka Dum. The new game show will be aired at Hum TV, from 7th February 2015, every Thursday and Saturday, at 9:10 PM.
The show will be hosted by the ever popular, Bashar Momin star, Faysal Qureshi.
With the tagline "Khud ko azmao, Qismat ka pahiyya ghumao, Aur dekhado, JEET KA DUM!", Faysal Qureshi is poised in a new look for the show.
For those who wish to participate in the game show and win prizes, register through the following way:
Dial 441730 from your mobile and then, press 3. Upon receiving your call, the auto-operators will list the following instructions for you to follow:
Only 4 family members can register on each ticket.
Children below the age of 8 cannot register/participate.
You will need to provide yours and your family members' Name, CNIC number and Mobile Number via a 50 second recording on call.
Registration pass cannot be sold or transferred.
Participants will need to bring their CNIC cards to enter the venue.
While there have been many game shows aired on Pakistani TV channels, Jeet ka Dum promises to stand out with its requirement of earning each and every prize instead of just handing them away. Be it challenging the participant's IQ levels or their dexterity levels through games, everyone will have to earn the prizes, unlike other heavily sponsored TV game shows.
With Faysal Qureshi's popularity and huge fan following, the show is already expected to be a hit.
On the other hand, Geo TV is bringing back Aamir Liaquat and his premier game show, Inam Ghar, in a revamped season coined Inam Ghar Plus, next week from 13th February 2015.