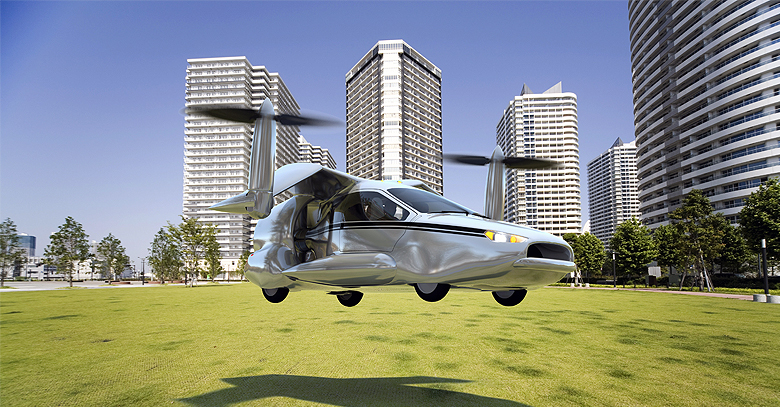 Who doesn't get stuck in a traffic jam? And who doesn't wish to fly out of the slumber-inducing inertia. Therefore, there is no one who would not wish to be able to fly away from all that noise, fatigue and exhaustion that always comes with a traffic jam.
Science fiction movies have been not-so-secretly nourishing our imaginations regarding flying cars for decades now. Many movies such as 'Star Wars', 'Jetsons', 'Back to the future' and almost every classic flick has always depicted the future with flying cars.
Privately held American corporation Terrafugia is perhaps the closest to making that future a part of our present. Terrafugia stands a few regulations, and a very powerful battery, away from launching a hybrid vehicle, Terrafugia Transition, which is a car and a plane at the same time.
Phil Meeter Chief Test Pilot for Terrafugia flew and/or drove the Terrafugia Transition – Flying Car – amidst thousand onlookers at the "EAA air venture" this year. The 20-minute demonstration included the conversion of Transition's transition from a car to airplane and the other way around.
Transition is considered by the company as a prototype for a more substantial business of flying cars, according to the CEO Carl Dietrich it is ridiculous why these hybrids have not made it to the roads.
"There is so much potential for an economic benefit to society if we have things like this," Dietrich said.
"There have been a number of studies recently that have quantified the economic impact of traffic congestion … just for the US, I think it was estimated at $87 billion to $125 billion a year. And that's just comparing it to driving at normal speeds, without traffic," he further added.
Transition has the capacity to achieve a maximum speed of 115mph (185 km/h), cruise speed of 105mph (172 km/h) with rear wheel drive while moving on the ground; Transition is designed to fit in a single car garage.
"The Transition is the transportation of the future today. A street-legal airplane that converts between flying and driving modes in under a minute," the website boasts.
After a 30 second transition time, enabled by the push of a button and an automated electromechanical ?folding wing system, the vehicle may take off from a 1700 feet stretch over obstacles at a height of 50 feet.
Transition is estimated to cost around $279,000 when it enters the market. However, the model designs of the next generation of Transition, named TF-X should be a bit more universally affordable.
If we speak of design then TF-X is supposedly a vertical takeoff and landing vehicle, which would be equipped with heavy navigations and auto pilot sequencing. Although still in its planning phases, the manufacturers are calling TF-X to be a less expensive better in quality follow-up to the Transition.
With plans of showing off Transition in the Northeast Light Sport Aviation Expo on September 14, in North Andover, Terrafugia seems determined to make human kind's mot desired dream come to reality.
'Flying cars' will face some major hurdles such as requirement of driver's 'flying license', marking of fly no fly zones, weather conditions, battery life (a flying car would not stall, it would fall), before it is commercially available and globally expected.
To be fair, every revolutionary breakthrough has faced hurdles. Acceptance comes with time and evolution with Transition.