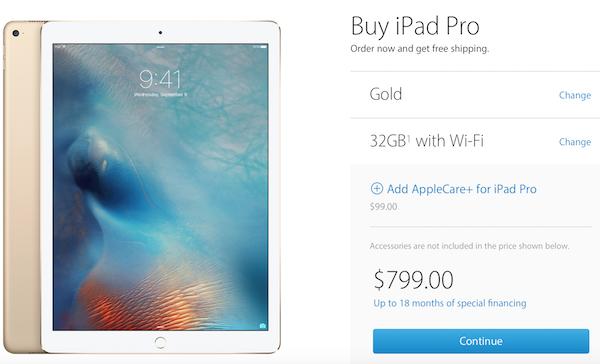 Apple iPad Pro is now officially on sale and is available for order on Apple's online store.
iPad Pro was announced in September at the Apple media event alongside iPhone 6s & iPhone 6S Plus. The all new iPad features a striking Retina display measuring at 12.9 Inches and boasting a 2732 x 2048 screen resolution packing 264ppi.
iPad Pro is powered by the A9X 64-Bit chip, 4 GB RAM and iOS 9.1. Apart from the usual hardware, iPad also includes 4 speakers, Touch ID, a powerful 12MP primary camera & a 1.2 MP secondary one.
The color options for the iPad Pro are Silver, Gold, & Space Grey.
iPad Pro is available in 40 countries for order as of today including : UAE, US, UK, Uruguay and US Virgin Islands, China, Czech Republic, Denmark, El Salvador, Finland, France, Germany, Gibraltar, Greenland, Guatemala, Hong Kong, Hungary, Ireland, Isle of Man, Italy, Japan, Australia, Austria, Belgium, Canada, Cayman Islands, Liechtenstein, Luxembourg, Malaysia, Mexico, Monaco, Netherlands, New Zealand, Norway, Poland, Portugal, Puerto Rico, Russia, Singapore, Anguilla, Antigua and Barbuda, Slovenia, Spain, Sweden, Switzerland, Thailand, Trinidad and Tobago, Turkey.
The pricing for the iPad Pro in U.S for different models are as follows:
IPad Pro 32-GB Wi-Fi Model = $799
IPad Pro 128-GB Wi-Fi Model = $949
IPad Pro 128-GB Wi-Fi + Cellular Model = $1079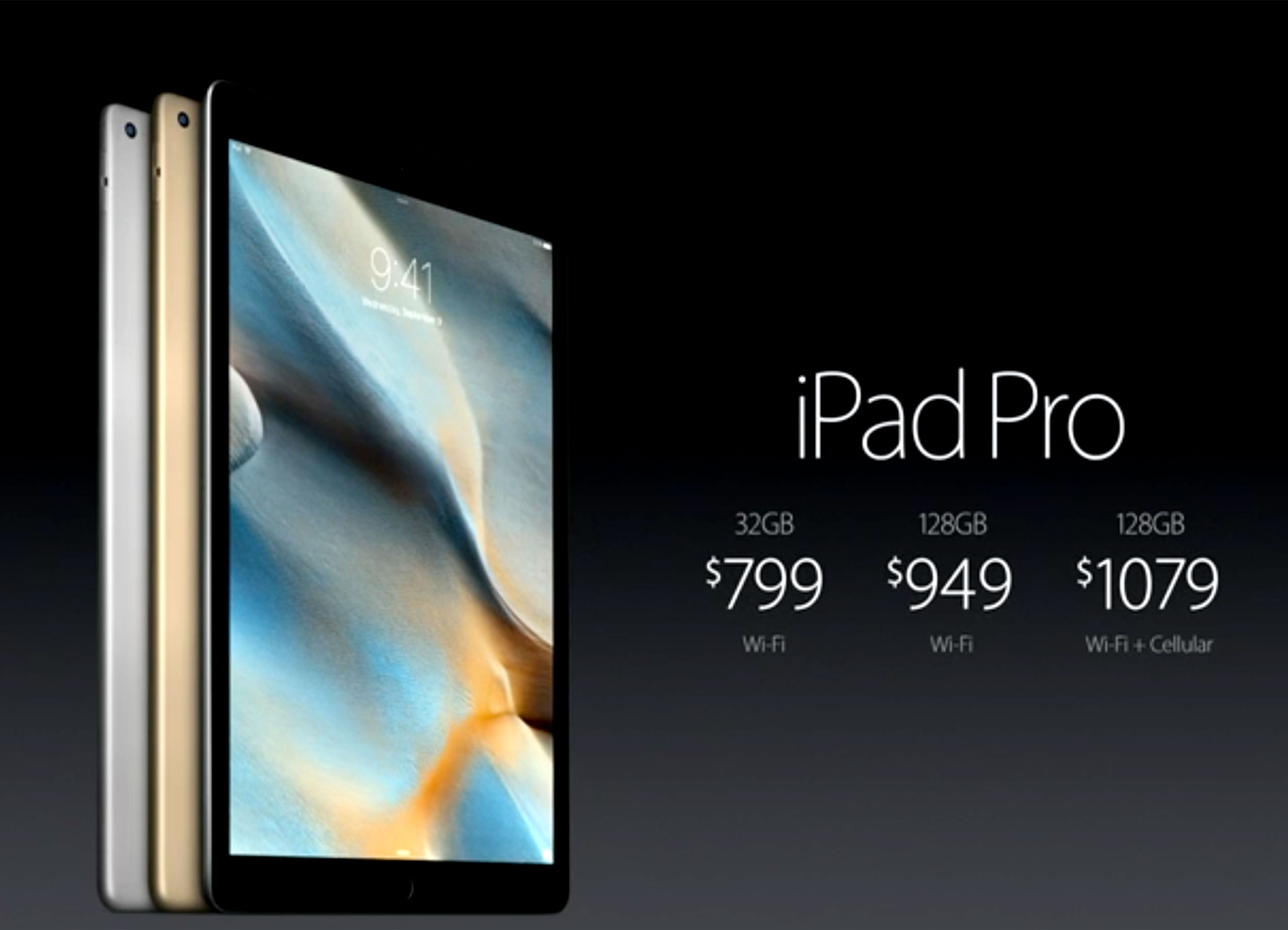 The iPad pro's separately sold accessories include the all new Apple Pencil priced at $99 in the U.S & Smart Keyboard priced at $169.
The Fastest delivery date shown by Apple was November 13, Friday or November 16th, Monday (free) in the U.S.