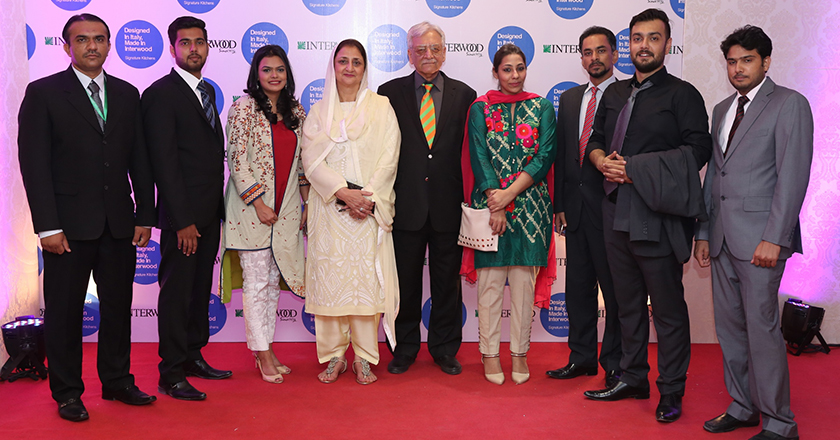 Interwood Mobel, Pakistan's leading furniture brand, has launched their line of Signature Kitchens designed by acclaimed Italian architect Alfredo Zengiaro along with a new range of Smart Workstations and Wardrobes at their flagship store in Karachi today.
The tagline, "Designed in Italy, Made in Interwood" reflects their philosophy behind the project.
"We are so excited about the launch of our new collections today and delighted that Interwood has been able to bring these global furnishing concepts to Pakistan, at affordable prices." Said Mr. Omar Farooq, CEO, Interwood.
The designer of the new kitchen range, Alfredo Zengiaro is a well-known name in the field of kitchen planning and home furniture design and is globally acclaimed for his design abilities and aesthetic sense.
Combined with Interwood's modern production facility and legacy of best quality finishing, the union between the architect and the company has brought out the best in terms of the design and manufacturing, reflected in the Signature Kitchens.
Interwood offers 15 different kitchen models to suit every style and purpose. Each kitchen can also be customised to the suit the requirements and needs of the owner.
The Smart Workstation range by Interwood has been designed for small office spaces and this beautifully finished, contemporary range is available in a variety of colours, ideal for small and medium sized offices across Pakistan.
Interwood also introduces Raumplus, a wardrobe system designed by a German company by the same name, perfect for the walk-in closet, built-in closet and corners.
"Interwood inconsistently developing new products to offer to our customers across Pakistan, hoping to make their life at home and work much simpler and hassle free." Farooq further added.
Interwood Signature Kitchen and Smart Workstations range is now available in Interwood stores across Pakistan, starting from 1.5 million PKR.
View images from the red carpet & event below:
Interwood's built-in kitchen appliances #AZinterwoodkitchen pic.twitter.com/pXRNk8Qprb

— InterwoodMobel (@interwoodmobel) April 22, 2015
Launch of this significant kitchen line is the new addition to Interwood's showcase collection. #AZinterwoodkitchen pic.twitter.com/OzTmwk7t6C

— InterwoodMobel (@interwoodmobel) April 22, 2015
Amazing Kitchen Doors by #AlfredoZengario at @interwoodmobel Signature Collection Launch #Kitchen #AZInterwoodKitchen pic.twitter.com/L8TB1Q1CeM

— Brandsynario (@brandsynario) April 23, 2015
Great show #AZinterwoodkitchen pic.twitter.com/LnE0qHR4x4

— Nisha Mazhar Sidiqui (@NeeShaww) April 22, 2015
Alfredo Zengiaro collaborate with Interwood pakistan #AZinterwoodkitchen pic.twitter.com/BLT1C87qBF

— InterwoodMobel (@interwoodmobel) April 22, 2015
Interwood Signature Kitchen design by Italy ,made in Interwood. #AZinterwoodkitchen pic.twitter.com/Q4qnBOWkzH

— InterwoodMobel (@interwoodmobel) April 22, 2015
Flo work stations by Interwood. #AZinterwoodkitchen pic.twitter.com/RMS0nro0Zw

— InterwoodMobel (@interwoodmobel) April 22, 2015
Office furniture by Interwood #AZinterwoodkitchen pic.twitter.com/l5PokjqJjK

— InterwoodMobel (@interwoodmobel) April 22, 2015
Interwood's Signature Kitchen by Alfredo Zengiaro launch event #Karachi #AZinterwoodkitchen pic.twitter.com/Ui1vov7HnW

— InterwoodMobel (@interwoodmobel) April 22, 2015