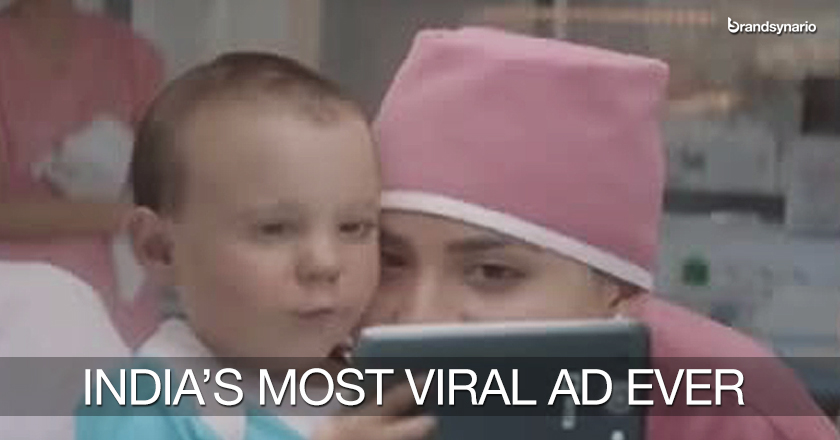 One of Pakistan's biggest stereotypes is to hate Indian but when it comes to advertising, hands down – our fellow neighbors are not just creative but globally famous for their witty yet power pact advertisements. 
One of such example is MTS India's tech-gen centric ad, featuring a super tech savvy baby; the ad has become India's officially 'Most Viral Ad' with 23.4 million views on Youtube.
The ad revolved around the theme of how the new generation is so tech expert right from their birth.
The ad features Diana Ross's 'I'm coming out' with a new born baby who is tech savvy right from his mother's womb.  The hilarious ad left people amused as the baby Google's his way to complete his/her own delivery.
A tech geek by birth, this cute little baby falls down the bed after taking a selfie with his/her birth nurse and simply crawls his way out of the operation theatre, leaving his/her parents and the surgeon dumb-struck.
The most surprising part here is not just the ad's concept and direction but its execution and marketing strategy. As told by the director Amitesh Rao himself, the ad was seeded on bit-torrent for the digital geeks to find it by themselves before it got uploaded on MTS's official channels.
Describing the strategy, Amitesh stated,
"We needed a campaign to reinforce our strongest differentiator – the fact that we have designed and optimized the MTS 3GPlus network specifically for data. At the same time we needed to be true to the MTS brand that talks to today's 24×7, always-on, data hungry consumer for whom the internet is the biggest opportunity platform there is. The challenge of course was to do all of this in an engaging and entertaining manner, which is what the story of a new-born baby going online to announce himself to the world does perfectly."
The creative agency behind this brilliant concept is Creativeland Asia which has been nominated in Cannes festival for this brilliant ad. Here have a look at this masterpiece: