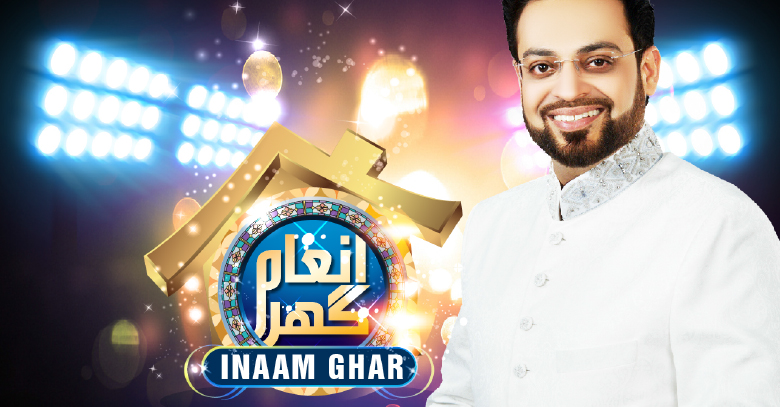 Aamir Liaquat's Inaam Ghar 2015 Passes are now available. Read on to find the Inaam Ghar registration process.Find the contact number for Inaam Ghar 2015 here.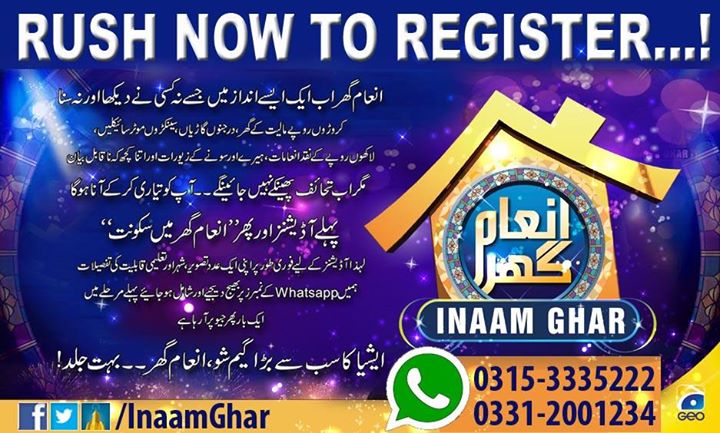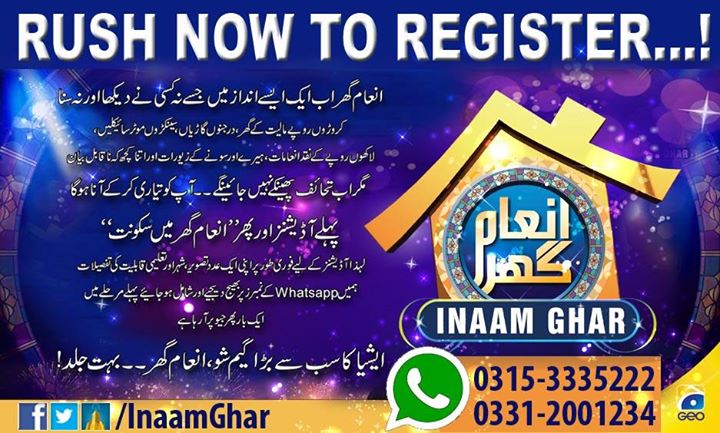 HOW TO REGISTER FOR AUDITIONS
In order to enter and participate in the show, all you have to do is send the following information to the mentioned numbers: 0315-3335222  OR 0331-2001234.
Your Name
Your Picture 
Your City 
Your Educational Background
According to the details, Inam Ghar will offer pricier gifts including plots worth millions, gold and diamond jewelry, cars, motorcycles and much more.
---
Dr. Aamir Liaquat Hussain and Geo Network have once again teamed up to dominate the media industry in Pakistan with a mega-budgeted prize show – Inaam Ghar. A modernized version of Loh-e-Qurani, Inaam Ghar is going to be aired live on Geo TV from 19th January, 2014.
Sources reported that the 3-hour transmission will be aired every week on Thursday, Friday and Saturday from 7:30 pm – 10:30 pm. The live show will be aired from Regent Plaza, the same venue as that of Amaan Ramazan.
According to Geo Network, Aamir Liaquat will be seen hosting multiple segments including live cooking, quiz competition, hide and seek game (couples or teams will participate), choose the right partner game, Live birthday party for children, Discussion with newly wedded couples and lastly, distribution of dowry twice every month for a needy family.
Aamir Liaquat's Loh e Qurani stood as the most-watched show in the year, followed by three more shows on second, third and fourth rank on the same table, which are of the same transmission hosted by the same man and owned by the same television channel.
Aamir is the man who beat TV channels in ratings last year, his transmission of Amaan Ramadan alone trashed ARY, HUM and URDU1 . Thus, the significance of 'Inaam Ghar' and the innate threat it is for all the current (imported) game shows we have in hand.