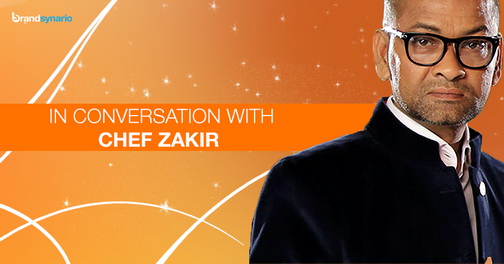 Muhammad Zakir Qureshi,  popularly known as Chef Zakir is one of the finest cooking experts that Pakistan has ever produced. 
The journey to become one of the best chefs in Pakistan wasn't a piece of cake for him; he had to come a long way, fight many obstacles and face many challenges to achieve the name and popularity he now enjoys.
Beginning his career in early 1980s as a mere dishwasher in Karachi, Chef Zakir's life story is a perfect example of rag to riches. He currently owns two restaurants in Karachi, hosts his own cooking show and is also part of the international food reality show – MasterChef Pakistan.
Brandsynario had an exclusive opportunity to hear his journey in his own words, let's hear it from Chef Zakir himself.
 ZAKIR'S EARLY DAYS OF PROFFESIONAL LIFE
His professional journey began when his superior once called him to prepare lunch for him but Chef Zakir later found out that it was for the GM of the hotel. The meal changed his professional career and gave him the chance to explore his culinary talent.
VIEWS ON THE NEED FOR EDUCATIONAL INSTITUTES FOR THE FOOD INDUSTRY
Zakir strongly encourages youngsters to join cooking as a profession, but he also has a fair advice for them too.
In his own words,
"It's a great achievement that youngsters are willing to join this profession, but they need to keep in mind that 2 or 3 months of training does not make anyone a Chef. It takes a lot of time and practice to order to attain expertise in this profession."
Chef Zakir believes that Pakistan has a bright future in cooking. He also believes that Pakistanis, especially our youth is very talented and finally they have the platform to portray their skills.