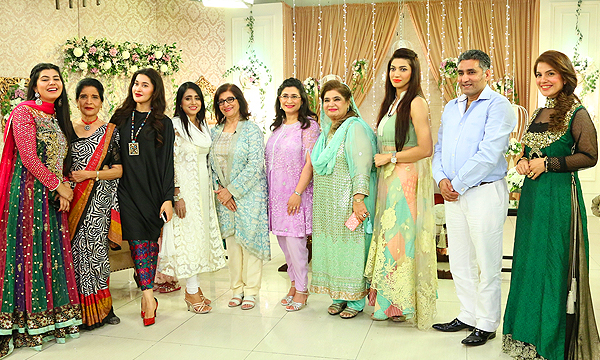 Pakistan's first 24-hour food channel HUM Masala celebrated its 9th anniversary on 3rd October, 2015. The occasion was celebrated with oomph and pizzaz with a live transmission from 11 am to 7 pm, and was graced by President HUM Network Sultana Siddiqui, SVP Athar Viqar Azeem, celebrities, HUM Masala chefs and crew, and fan-favourite hosts Shaista Lodhi, Sanam Jung and Kiran Khan. HUM Masala's widespread following became once again obvious with live callers becoming a part of the show and congratulating HUM Masala on its nine successful years on air.
Celebrated ex-Pakistan team cricketer Moin Khan joined in with his family as he took part in cooking with his wife. Celebrities present on the occasion included Mani, Sana Fakhr, Saman Ansari, Maya, Alizeh, Marium Hafeez and Sukaina, along with HUM Masala chefs Shireen Anwar, chef Gulzar, Rida Aftab, Zubaida Tariq, Tahir Chaudhary and Zarnak Sidhwa.
The event culminated with President HUM Network Sultana Siddiqui cutting the 250-lbs cake prepared by Imran Wasti, with HUM Masala crew.
This anniversary marks yet another milestone achieved by the HUM Masala team, in the face of other cooking channels that had opened up after HUM Masala and later shut down their transmissions. The credit goes to HUM Network under the management of which the channel has maintained its quality of cooking shows aired since its inception nearly a decade ago. As the pioneer 24-hour cooking channel in Pakistan, Masala has set high standards for its current and future competitors.