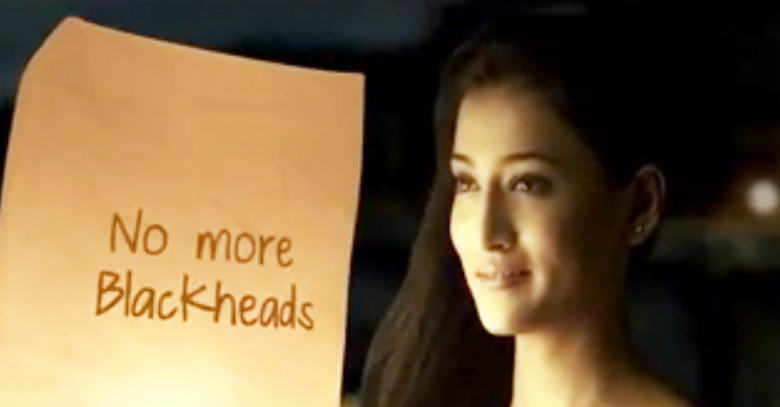 It is true that women today can go to any lengths to get the most flawless, beautiful skin. Realizing this, India's top herbal face care brand "Himalaya Herbals" released a new TVC, for its range of face care products, encouraging women to 'let go' of their skin problems.
Created by Soho Square, the commercial announces new packaging for its face care collection, endorsing the brand as an immaculate solution for all skin troubles.
The ad shows a large number of young girls bidding farewell to frustrating skin issues. All of them carry glowing sky lanterns in hand with the names of their skin-related problems printed on them.
From "Goodbye Pimples" to "No more Blackheads", "Free from dark spots" to "No more Oily skin", hundreds of sky lanterns labeled with a variety of skin evils were released into the sky.
The floating lanterns then rise up in the sky, forming an "H" to depict Himalaya's logo. The commercial then closes with a female voice over saying, "Ab Himalaya ka wahi atoot vishwaas ek naye avatar mein. Himalaya – Sabse pehle." (Now, the same trusted Himalaya, in a new packaging).
The commercial tends to reflect that how women can trust Himalaya as the most promising brand for all matters of the skin.
"The film, very simply, captures how Himalaya face care range has been the ideal solution to help millions of girls to get rid of their face care problems: be it pimples, oily skin, black heads, dark spots, etc." Soho Square's head of office Shenaz Bapooji said.
With women now desiring a complete cosmetic solution from their beauty brands, Himalaya's new TVC is undoubtedly a smart move and a creative idea.
With time, the brand has grown to cater all the skin needs of their fans. From face washes, scrubs, masks, moisturizers, fairness creams, toners, to eye and lip care; Himalaya has left no stone unturned to please its target market.