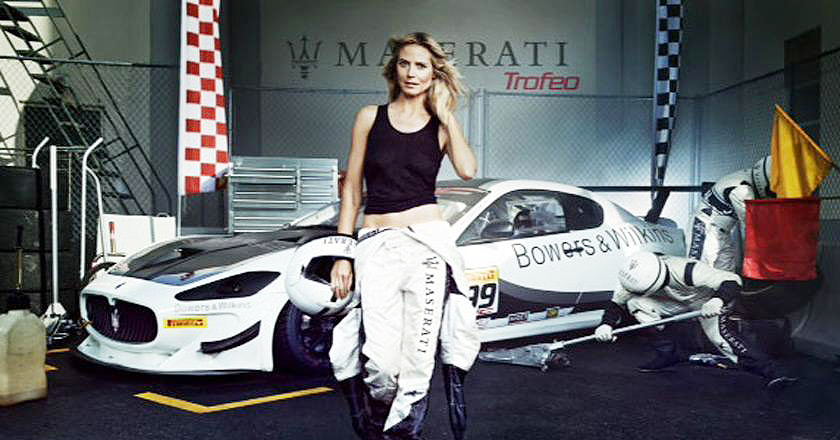 Maserati, the high end luxury brand has surprised the world by featuring Heidi Klum, in its latest Beyond the Swimsuit Issue.
Heidi Klum, the German born actress known not only for her good looks but also for her style and well developed brand image, has recently modeled her good looks for Maserati Ghibli, Quattroporte and GranTurismo.
In a recent 90 second Maserati commercial at Super Bowl, Klum promoted a $68,150 Ghibli to the international audience. The commercial was named as 'Strike' and received more than 11.5 million views since its uploading on Youtube.
Moreover, the high end luxury car brand, owned by Fiat has promoted its brand to an all new level by showcasing the photo shoots pictures featuring Klum in a US magazine's Sports Illustrated 50th annual Swimsuit issue.
The 40 year old model has starred in the photo shoot in various different poses & outfits. The CEO of Maserati, Herald Wester stated in a comment,
"We've prepared a new lineup of Maserati cars with the glamorous Quattroporte, the four-door daily performer Ghibli and the sporty GranTurismo Convertible." 
While further adding on, "This massive effort deserves the largest audience platforms to take notice."
As according to Masserati, the ad titled as 'Beyond the Swimsuit' shot by a famous Italian photographer Francesco Carrozzini in Los Angeles, shows Klum not just in the shoes of a stunning star but also as a business woman, promoting some 100 year old brand's, i.e. Ghibli sedans and Quattroporte.