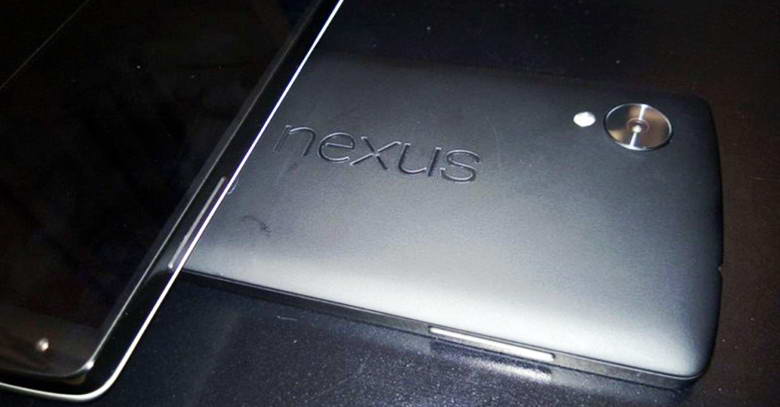 By Hassan Wasti
The most sought after gadget by Android users all over the world after Samsung Galaxy S series is Google Nexus. The upcoming 5th generation of Nexus is gaining momentum in the market as Google have set its release date for 28th October.
Rumors have started to leak about the Nexus 5 and expectations are running high as fans wait anxiously for the newest flagship of Google, hoping it to outclass the previous version.
We have gathered a list of what is expected by the customers and the rumors making rounds in the market.
Display and Design
The Google Nexus 5 is said to have a display of 4.95 inch with full HD resolution of 1080p. The name itself is an indication to a 5-inch screen.
The design remains a mystery but Nexus 5 seems to have bid farewell to the elegant but delicate glass-back of its previous versions. The leaked images show a landscape NEXUS logo written at the back but that might change in the final version.
The smartphone will be available in White and Black colors.
Hardware
Nexus series are known to give a list of attractive specs at an affordable price. This time around Nexus 5 will feature hardware specs similar to the LG G2 and will come with a SnapDragon 800 processor with 4 Krait 400 cores clocked at 2.3Ghz, 2GB RAM, Adreno 330 GPU and 16 or 32 gigs worth storage, non-expandable of course.
It is said to have a eight megapixel back camera with LED flash, Optical Image stabilization and a full resolution of 1080p video recording.
Considering how simple the Nexus 4 camera was, this unit here might include some special effects or bells-and-whistles. The front-facing camera will feature a two megapixel view.
Software
This is the only feature which comes with legitimate backing from Google and has gained a lot of popularity due to its name. Android 4.4 KitKat will be making a debut in the Nexus 5.
The official Nestle Kit Kat page has been hinting about the announcement for long enough and has already confirmed that the latest OS will be released in October.
The phone is said to use the new Wi-Fi standard 802.11ac and microUSB 3.0. LTE versions will be available after. Bluetooth 4.0, NFC, USB-OTG and a few other exciting connectivity options might also make an appearance. Battery accommodation is expected to be 2300 or 3000 mAh.
Pricing and Availability
Thanks to a leak on Play Store courtesy Google, we are quite sure about the pricing of the new Nexus. The device made an appearance for a few minutes there, costing $349 for the 16GB version so the 32GB model, hence, should cost $399.
The availability is still a question mark; at best it is rumored to debut this month or the first week of November.
With prices such as these, Nexus 5 cannot be termed as a cheap phone but compared to the competition the pricing seems fair and reasonable for tech lovers out there.
It will be difficult to find Nexus at a reasonable price in the first few months of its availability but prices should settle down in the coming few months after its release.