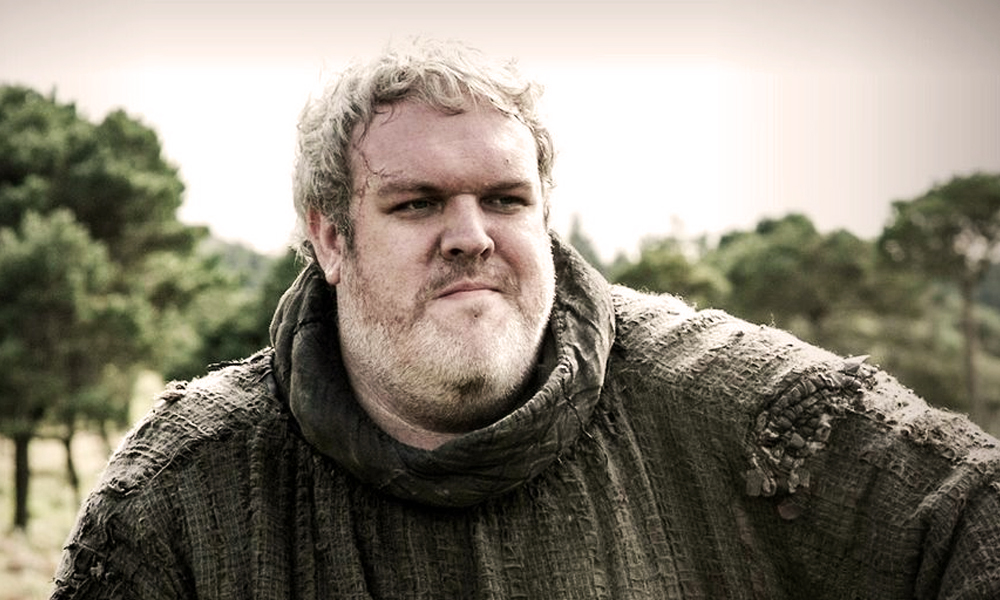 It seems like GOT fans all over the world are crying their eyes out after the heart-breaking death of Hodor in the Sunday night's episode.
When one thinks about death on GOT, you don't expect to feel sad, fuzzy or warm but here we are; it was definitely shocking to see the innocent and lovable Hodor's violent death while protecting Bran from the White Walkers. Kristian Nairn, who played Hodor's character in the show was a big sweet softie on Twitter;
See what he had to say to his fans:
Hodor. Thank you guys,for the love,+ know that I love you back.I never dreamt of all this.Huge props to @SamColemanActor for an amazing job

— Kristian Nairn (@KristianNairn) May 23, 2016
Kristian Nairn also talked about the fate of Hodor after the show, saying, "It feels very true to Hodor for me."
While Meera and Bran were attempting to escape from the wrath of the evil White Walkers, the lovable Hodor had to "hold the door" shut to keep the wicked monsters inside the tree.
But the wights break through the door and slash everyone's favorite character right through it! His death becomes the ultimate sacrifice of a life-long protector!
Watch the whole scene here.  Make sure you have a box of tissues ready!
Now Twitter town is in mourning while everybody laments the shattering demise of the kind soul!
Check out some of the best reactions here.
Finally managed to see #GameofThrones episode 5 and was very sad to see yet another of the good characters being killed 🙁 no more killing!

— Swechya Mathema (@_Swechya_) May 24, 2016
He held the door but I couldn't hold back these tears. #GameofThrones pic.twitter.com/y5M9AvFjQC

— ❁Courtney❁ ✌ (@iicourtneybby) May 23, 2016
We need a big group hug after that #GameofThrones pic.twitter.com/zUjQsP8Uh6

— Lindsay (@lchap83) May 23, 2016
Me right now #GameofThrones pic.twitter.com/yaB1uMcPJo

— GameOfThrones Reacts (@GameThroneReact) May 23, 2016
My response to anyone who holds the door for me this week #GameofThrones pic.twitter.com/BxYdJQH9Cl

— pK (@Solomon_OA) May 23, 2016
RIP to the gentleman for holding the door and saving lives #GameofThrones pic.twitter.com/SUUr9BccLP

— Justin Kabiling (@Justin_Kabiling) May 23, 2016
Summer, Hodor nooooooooooooo #GameofThrones pic.twitter.com/Aa5ivJGdmH

— CamiLo Stark (@heickCc) May 23, 2016
#GameofThrones pic.twitter.com/zFzTU9hU54

— Little Bird (@kyliepuff) May 23, 2016
😭😭😭😭😭😭 #VivePoniente #GameOfThrones #JuegoDeTronos pic.twitter.com/teiR4DEsZ9

— Loli Viqueira (@LemanLV) May 24, 2016
in all honesty, #HoldTheDoor tore me apart more than #TheRedWedding did

— Arturo (@drummertito13) May 23, 2016
When someone asks you to hold the door…. #GameOfThrones pic.twitter.com/1fatMi4Bah

— Jon Snow (@LordSnow) May 23, 2016
Yeah, it's kinda like that. #GameofThrones pic.twitter.com/JVdfV3oP2d

— Chris Callahan (@rgb_alpha) May 23, 2016
Stuck on the lift this morning. clearly a #gameofthrones fan with a great sense of #humor#GoT#hodor#HoldTheDoorpic.twitter.com/WBoXolJHEs

— Hanley.ie (@Hanleyie) May 24, 2016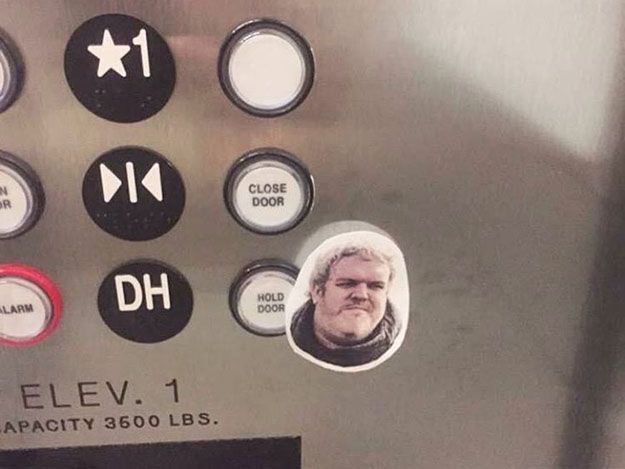 Hodor may be gone, however his memory will live on forever with well-placed stickers. Fans in the US are placing stickers in the elevator on the HOLD DOOR button.
Game of Thrones Characters: Shocking Transformations from Season 1 to 5
Stay tuned to Brandsynario for more updates.