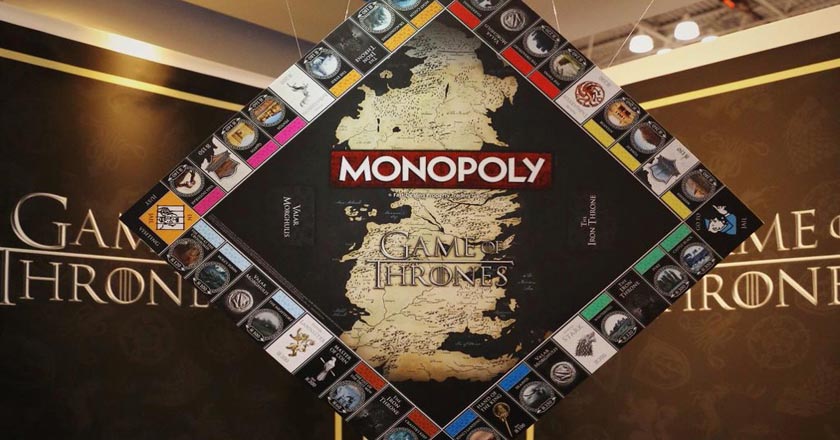 In Game of Thrones, either you win or you die.
The GOT franchise seems to growing by multitudes. A recent update from the official Game of Thrones Twitterannounces the release of a "Game of Thrones Collector's Edition" of the classic game, Monopoly. 
The HBO Shop will start selling these limited edition sets during 2015, in the US costing $60.
According to the HBO Shop, "Vie to hold dominion over the realms of men in the Game of Thrones Collector's Edition of MONOPOLY. Featuring infamous locations from the original dramatic television series, including Castle Black, Winterfell and King's Landing, players will buy, sell and trade their way to sit atop the Iron Throne."
"Collectible tokens include: Dragon Egg, Three-Eyed Raven, White Walker, Direwolf, Crown and The Iron Throne. Custom Villages and Keeps replace traditional Houses and Hotels. Coming in 2015."
While the family favorite is suitable for ages eight and up, the slightly more war, death and violence-saturated Game of Thrones edition carries a recommended age of over 18, in line with the TV show.
This game will be a must-have for Game of Thrones enthusiasts as well as Monopoly lovers.
What's more, it may lead to more GOT inspired classic board games such as "Game of Thrones Trivial Pursuit", or "Game of Thrones Snakes and Ladders", but till then, our lives can be filled with the excitement of the Game of Thrones Monopoly.
In other news, Lena Headey, who plays the deliciously wicked Cersei Lannister on the TV series, has confirmed that she is expecting a second child, People reported.
"I'm happy to confirm that I'm having my second child this summer," the 41-year-old beauty said.
Season 5 of Game of Thrones will premiere on April 12th.