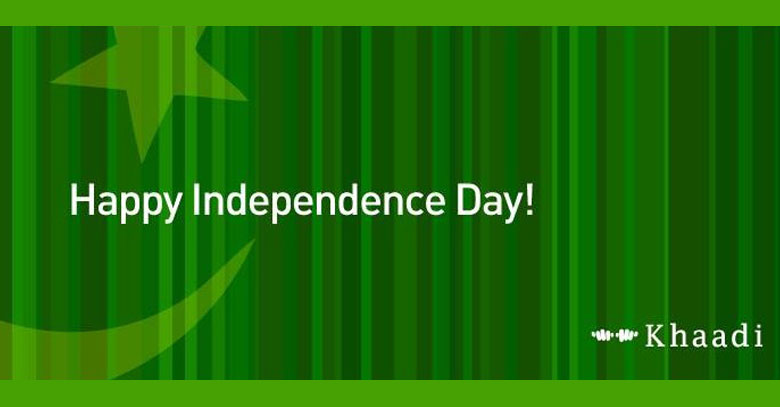 A review of Independence Day ads and campaigns
It is not uncommon for a country- liberated over passion, religion and carried thereafter onto history with patriotic zeal – to be rich in patriotic advertisements more or less in every season of the year, let alone the Independence Day. Gala Biscuit's 'Mere Des ka biscuit Gaala', Engro Group's 'Koi hai jo Khud Pakistan hai' and Pakola the brand itself are some of the many examples of the subject in discussion.
On and around 14th August however, more brands pledge their allegiance to the country, or at least advertise so like Khaadi's late night Pakistan Zindabad discount or Ideas 10% discount on all apparels, shoes and bags flooded the social media.
Multinational Giants like Pepsi Co and Coca Cola have also been vigorous in patriotic themes almost from their inception in the country. Other than some social media promotion, nothing noticeable made it to electronic media from these two this year. Nevertheless this Independence Day, BrandSynario seeks to review some of the patriotic brands.
Stone Age
Stone Age came up with 'Made in Pakistan' campaign a few months back, first with Meesha Shafi and motorcycle enthusiast Moin Khan. Later they held up a promotion with 'Chaar Paee' – an upcoming band with a unique sense of patriotism – performing in a Stone Age outlet. The band is famous for making music out of household items.
Telenor Djuice
Djuice's noticeable effort of 'Free Internet Day' proved to be more wishful than they intended. The official social media page is cluttered with disappointed comments from the users of the brand. Quality of the service, users claim, have deteriorated to an extent that they would rather prefer the paid version.
National Foods
'National ka Pakistan' TVC launched by National Foods, seems somewhat different than an Independence Day advertisement. Getting Shafqat Amanat Ali on board, National food could not achieve what they could have with the given resources.With an unimpressive background score the TVC goes on and on, with seemingly deliberate effort to push the product towards the audience.
Dolmen City Mall
Dolmen Mall in Clifton followed the example of shopping marathons overseas and launched a shopping spree with discounts going up to 30%.
Shopaholics went wild over the sales, which were schedule to last till early morning. Decorated heavily with, flags, balloons and green and white buntings, the impatient Karachi-ites enjoyed the sale to its fullest. Khaadi, a popular member of Dolmen Mall, also gave out a sale on the night of 13th August till early morning next day.
National Bank of Pakistan
Last year, National Bank of Pakistan came out with a contemporary and fresh look in their corporate ad, launched on the Independence Day. NBP's wheel was branded skillfully throughout the corporate ad by Synergy Advertising, while conveying the familiarity NBP is known for. Seen mostly on business channels, the ad showed the portfolio of all products and services by the bank.
Engro Foods
Engro Food's "koi hai jo Khud Pakistan hai" campaign, is one of the best Patriotic themed commercials, reinforcing the ideal with a passionate impression of the brand. The voice over seems exhilarating, and integrates the feel of the brand and patriotism in few words.
Launched this 14th august, was a follow up corporate Ad, using Allama Iqbal's famous prose:
"Khudi ko kar buland itna k har taqdeer se pehlai
Khuda bunday se khud poochay, Bata teri raza kya hai!"
Branded strongly on being Pakistani – ENGRO GROUP seems to be untouchable in this genre of advertisements.
Mobilink
Mobilink made an impressive leap from branding themselves with 'Taher Shah', to coming up with an interesting application of 'Make a Pledge' on their Social Media Page.
Under the same campaign Mobilink makes an addition of 'Hur Azaadi. Hur Jashan'. The same background score of the campaign is continued on 14th Aug ad as well, which is catchy and all in all gives a positive feel.
Ufone
Finally, the Pakistani advertising trend-setters, Ufone, proved to be impressive once again. Last yearit was their magnificent retrospect – the magnificence of its depiction, photographic ingenuity, inclusion of the brand ambassadors and fusion of old and new.
This year with the theme 'tum hi ho Pakistan' and an depiction of major issues facing the country, the TVC seemed a little rusty. With an average background score from Jawad Bashir, critics say Ufone could not meet the expectations. Ufone social media page has been active this year from almost the start of the month.