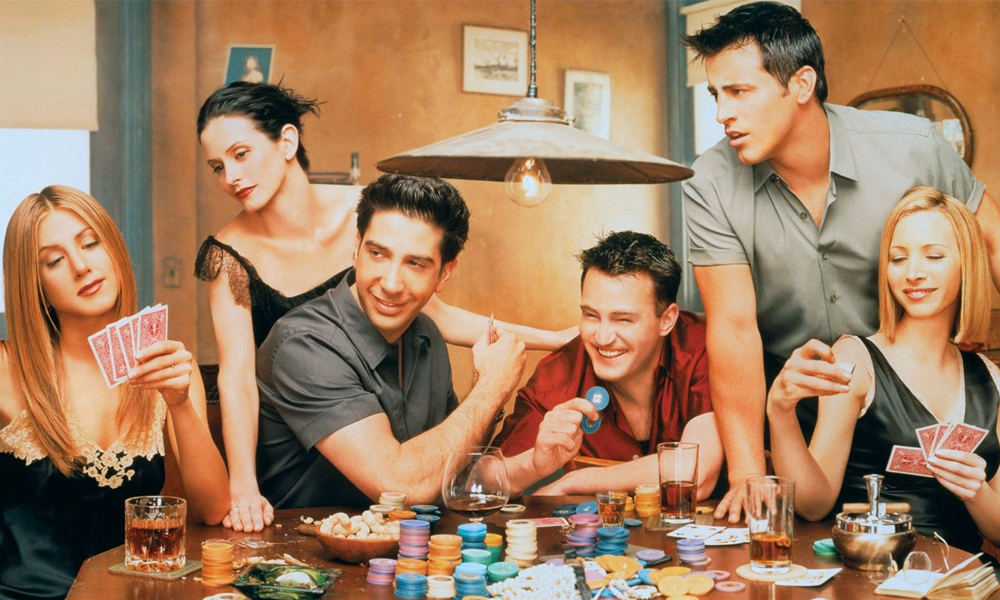 UPDATE: The much awaited FRIENDS reunion is happening now! See the pictures below! Actress Kaley Cuoco posted an Instagram photo of Friends castmates David Schwimmer, Matt LeBlanc, Jennifer Aniston, Courteney Cox and Lisa Kudrow.
Also pictured are Cuoco and her co-stars from The Big Bang Theory, but even she knows the photo's true focal point — and can't resist fangirling a little.
https://www.instagram.com/p/BA896sKCsig/
The cast of "Friends" and "The Big Bang Theory" posed for an epic photo that has gone viral on Instagram.
Actor Johnny Galecki shared the photo which was taken during NBC's tribute to veteran sitcom director James Burrows, whose credits include some of TV's most successful shows including "Two and A Half Men," "Cheers," "Frasier," "Will & Grace," "The Big Bang Theory," "Wings," "Mike and Molly," "Friends" and "The Big Bang Theory."
Stars from those shows were also in attendance.
Absent from the "Friends" cast is Matthew Perry, who is currently starring in the play "The End of Longing" in the UK.
The special, "Must See TV: A Tribute to James Burrows" celebrates Burrows' 1,000th episode and airs 9 pm Sunday, Feb. 21 on NBC.
---
Sad news for 'Friends Fans', seems like one friend from the cast will not be joining the  much-awaited Friends Reunion! According to recent news, Chandler Bing (Matthew Perry), will not be at the reunion, set to be aired in February as Perry will be in rehearsals for his upcoming play in London, "The End of Longing."
There is still some hope for the fans though as "Matthew may tape something for the tribute."
Best news for Friends devotees- Yes, after 12 years it's finally happening! The most beloved Friends are having a reunion and everybody is invited.
Friends cast members- Jennifer Aniston, Courteney Cox, Lisa Kudrow, Matt LeBlanc, Matthew Perry and David Schwimmer- will be featuring together in a two-hour special for a tribute to the sitcom director, James Burrows.
NBC made the announcement at a Television Critics Association panel in Pasadena, on Wednesday.
"I am hoping all six Friends will be in the same room at the same time but it may not be logistically possible to pull off," said NBC chief Robert Greenblatt. Still there is a high probability that the whole group will be seen to honor the veteran director.
Burrows finished directing 1000 episodes for television including installments of Friends, reported Entertainment Weekly. We are really rooting for this one. Keep your fingers crossed Friends fans.
The programme is slated to broadcast on Sunday, February 21, 2016.
Stay tuned to Brandsynario for more updates.