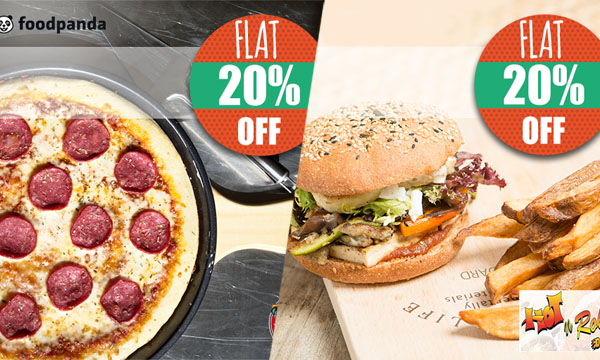 foodpanda.pk launches a campaign of flat 20 percent discounts & no delivery fees, and thereby becomes the only E-commerce platform to hush others' claims of leading food ordering industry.
The top notch food ordering platform has been in action since 2013 and with only a couple of years on hand, it has consistently delivered customer expectations above par; which is evident yet again in the launch of this campaign.
Understanding of consumer demands and industry trends has been a determining factor in the launch of this campaign. foodpanda's research team closely worked with stakeholders such as restaurants partners, delivery partners and top customers to understand how food ordering industry can be pushed for growth.
"We constantly asked ourselves a question: how can we bring about a massive growth in the industry? Our objective solved the puzzle. We want to deliver what our customers expect of us.
Deliberating on industry trends, consumer preferences and inputs from restaurant partners we were able to come to a conclusion: The food ordering industry is hungry for growth. A flat 20% discount on entire menu and no delivery fees of more than 500 restaurants is bound to create that effect. It is what our customers want and we are prepared to deliver exactly that", says Omair Bakhsh, Marketing Manager foodpanda Pakistan.
Besides delivering great monetary value to its customers, the foodpanda campaign has challenged current industry prices. It is comparatively cheaper to order in via foodpanda instead of dining out or take-away.
While Ramadan had brought stagnant flow of food orders for the business, the curve will ascend with this campaign, according to foodpanda. Lunch hours raking in a very small number of orders will restore the inflow whereas dinner time will also experience a rush.
"As far as the business is concerned, we're expecting an explosive growth this month, for us as well as the industry by delivering what customers want – best value for money campaign" Omair Bakhsh, Marketing Manager foodpanda adds further.
The best way to keep updated to developments on this campaign is by downloading foodpanda mobile app for iOS, Android and Windows Phone or simply logging on to www.foodpanda.pk. Foodpanda social media accounts are also actively updating restaurant names for each city which you better not miss!