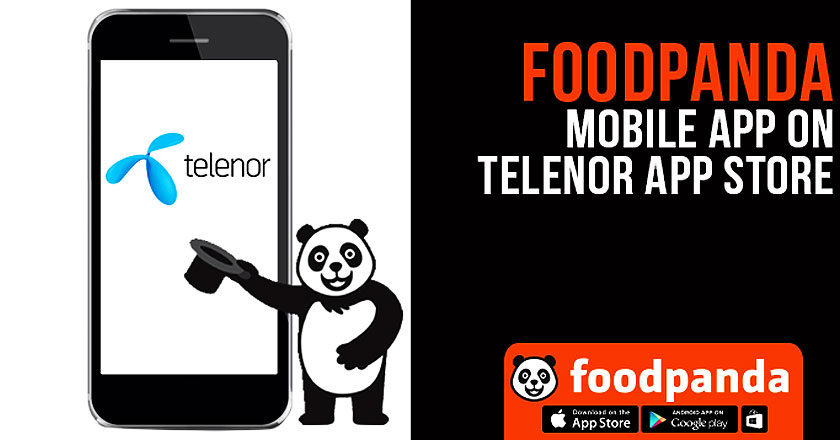 foodpanda.pk has collaborated with Telenor Pakistan, to make the foodpanda app permanently available on Telenor Apps, with a limited time offer for free data usage.
foodpanda.pk has taken bold steps as of late in an effort to maintain its position as the leading restaurant aggregator in Pakistan. The company is currently in the process of expanding its reach to customers throughout the country with the launch of foodpanda Delivery. And,
Collaborating with one of the largest mobile networks in the country is a historic step for both.
Speaking about the collaboration, Chief Marketing Officer and Deputy CEO of Telenor Pakistan Irfan Wahab Khan said, "We strongly believe in offering convenient solutions for our valued customers and this partnership is another step towards our customer centric approach. Telenor App Store features both the local as well as global apps with the ambition to provide all relevant content at one place in order to boost the digital eco-system in Pakistan."               
While the app itself is free to download, Telenor Pakistan users will be able to browse through the exhaustive list of restaurants on the foodpanda app, place orders and even make payments online without having to pay for data usage, all for a limited time. The move is a first of many by foodpanda.pk, as the company directs its focus to offer greater convenience to its users.
"The world is transitioning into mobile commerce, and we want to be better prepared for this movement. As for our customers, we ensure that their experience will only boost up", says Ahsan Mateen, co-Managing Director foodpanda.pk
The collaboration is designed to promote the partnership between foodpanda and Telenor Pakistan, and will cater to the interests of the growing mobile community in the country. With a large majority of customers in Pakistan still using pre-paid cards, this collaboration will make it much easier for a customer to place an order through their phone, without having to worry about any deductions.
Talha Ansari, co-Managing Director further adds – "To continue with maximization of customer reach we will be taking many such steps in future."
In an attempt to revolutionize the digital landscape in Pakistan, this collaboration between foodpanda and Telenor Pakistan will create more user-friendly, convenient and secure e-commerce solutions for the growing digital population.