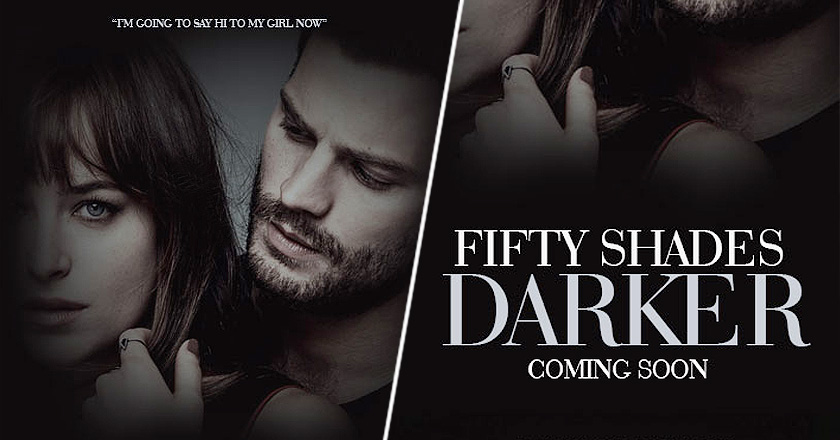 UPDATE:
The teaser for Fifty Shades Darker has been leaked online!
Watch the trailer below:
---
The seductive Mr. Grey and the sultry Ms. Steele are all ready to set the screen on fire again in the year 2017.
Just two months into the record-breaking success of the romantic drama, Fifty Shades of Grey, Universal Pictures has already announced the dates of TWO of its sequels.
The next movie in Mr. Grey's series will be Fifty Shades Darker, slated to release on 10th February 2017 and the third, Fifty Shades Freed, will be released in the following year just in time for Valentine's Day, on 9th February 2018.
The movie sequel Fifty Shades Darker will be penned by Niall Leonard, husband of the author of Fifty Shades books trilogy E.L. James, as reported by the Hollywood Reporter.
While James wanted to script the movie herself, requiring Kelly Marcel (the screenwriter for Fifty Shades of Grey) to take an exit, her lack of screenwriting experience pushed the job to her husband's credit.
The director for Fifty Shades of Grey, Sam Taylor-Johnson, will also not be joining the Team Fifty as the first movie saw a huge number of creative differences between him and E.L. James.
The cast of the film is yet to be finalized as Jamie Dornan and Dakota Johnson negotiate for a bigger chunk of the profits, predicting that the sequel will be as successful as the first movie, which broke records for the biggest international opening of all time for an R-rated film, by raking in a whopping USD 248.7 million.
While the critics weren't too impressed with the first movie, it still managed to earn USD 568.8 million without any signs of the steam dying down.
Having said that, it's safe to assume Christian Grey will be drawing massive crowds to the cinema again soon.