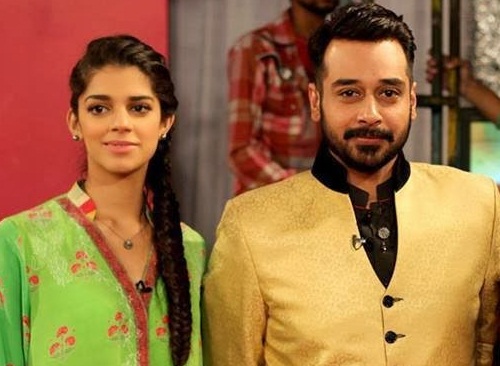 Seems like Pakistani celebrities are finally waking up. Many are now  breaking their silence against Indian ban on Pakistani superstars and the surgical strike across the LoC on Azad Kashmir. Faysal Quraishi and Sanam Saeed are the latest stars from the nation to share their views on the burning matter in an exclusive interview to Brandsynario.
The actor Faysal Quraishi  stated that Pakistani artists are so worthy that they are called to work across the border. However, they are not dying for projects in India. He said it was disheartening to read the bitter round of tweets from the entertainment fraternity of the neighboring nation.
Watch all what Faysal Quraishi said to Brandsynario in this exclusive video!
Meanwhile Sanam Saeed urged for peace between both the lands and was of the opinion that India and Pakistan should stop fighting.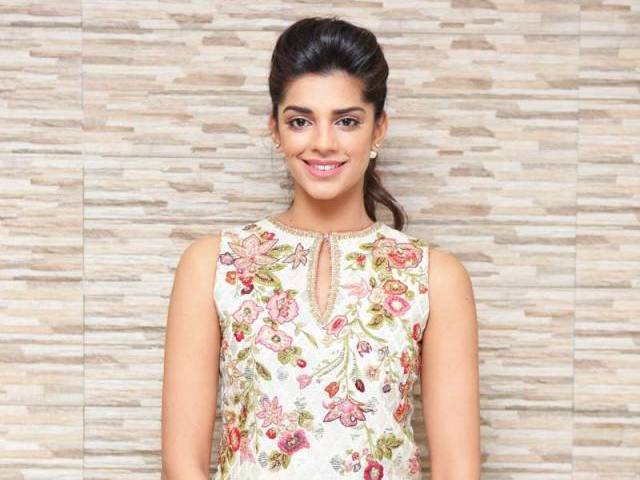 "Art is above politics, if we allow politics to get in the way we do nothing but stunt our growth. Let the artists stick to their work and politicians stick to theirs. As a friend very aptly put it.. India and Pakistan are like two bratty children fighting for the sake of fighting after being instigated by their mean step parents.. The west. Let's not", she said
Earlier in a tweet, Faysal Quraishi showed his support for Pakistan army and called the rivals as "cowards"
Terrible attack by cowards and moun tord jawab from #PakistanArmy #pakistanzindabad #PakistanArmyzindabad

— Faysal Quraishi (@faysalquraishi) September 29, 2016
Amidst rising controversies, Shaan Shahid took to Facebook and deemed it shameful that superstars of the nation showed no support to Pakistan army.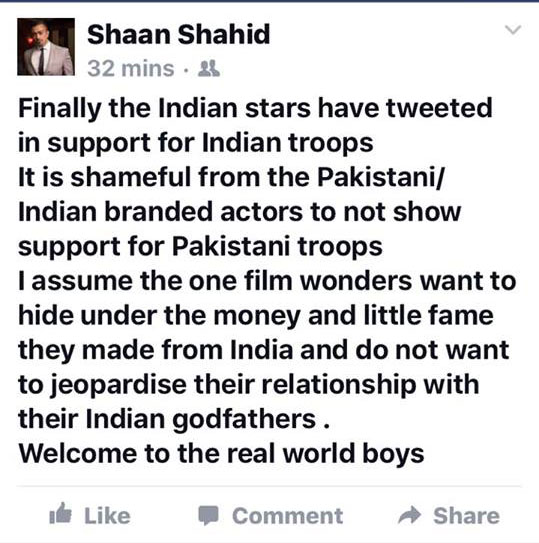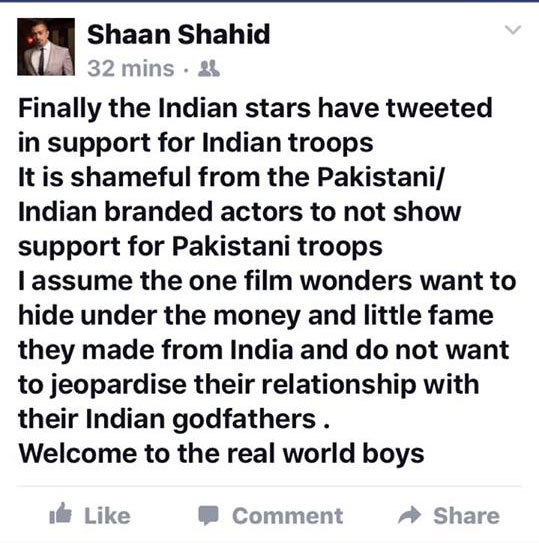 The timeless hero bluntly stated that all pro-Indian actors do not want to threaten their relationship with directors across the border!
Other than Shan, Hamza Ali Abbasi is amongst the first to speak his heart out on social media.
Soon after the attack across the LoC yesterday, Abbasi took to Facebook to express his views on the matter and urged the entertainment fraternity to boycott Bollywood.
[fb_embed_post href="https://www.facebook.com/hamzaaliabbasi/posts/1201126863284319?__mref=message_bubble/" width="550″/]
[fb_embed_post href="https://www.facebook.com/hamzaaliabbasi/posts/1200145886715750/" width="550″/]
Meanwhile, Shahid Afridi is encouraging India and Pakistan to make peace and not war!
Pakistan is a peace loving nation,y talk abt extreme measures when things can be resolved through dialogues. Pakistan wants cordial 1/2

— Shahid Afridi (@SAfridiOfficial) September 29, 2016
Relationship with all. When 2 neighbours fight both homes are effected. #sayno2war #pakistan #peace #india #neighbours

— Shahid Afridi (@SAfridiOfficial) September 29, 2016
Pakistani Celebrities Remain Silent While Bollywood Celebrities Unite to Support Indian Army
However, Indian celebrities are on a roll with their anti-Pakistan sentiments. You will be shocked to read their reactions on Twitter!
Thnx Indian army for the action against terrorism.V should all pray for safety & well being of our Indian soldiers. pic.twitter.com/7gltoNP937

— Shah Rukh Khan (@iamsrk) September 29, 2016
T 2394 – "Don't mess with the Indian Army" !!

— Amitabh Bachchan (@SrBachchan) September 29, 2016
Proud of our Indian Army & many Congratulations to our Indian Government for their effective steps against terrorism. #IndiaFirst #JaiHind

— Riteish Deshmukh (@Riteishd) September 29, 2016
Namaskar. Mujhe garv hai hamare veer jawano pe,hamare pradhan matri ji aur raksha mantri ji pe. Jai Hind !Vande Mataram !

— Lata Mangeshkar (@mangeshkarlata) September 29, 2016
Congratulations to the indian government and proud of our army for taking the fight to the terrorist #CountryFirst #JaiHind.

— Varun Dhawan (@Varun_dvn) September 29, 2016
Proud of our army they are the pride of our nation #IndianArmy https://t.co/4oBCOnEktb

— Varun Dhawan (@Varun_dvn) September 29, 2016
In full support of the Indian Army and its effort to root out terrorism. #respect https://t.co/nzQeZXCi4p

— Farhan Akhtar (@FarOutAkhtar) September 29, 2016
Super proud that terrorism is spoken to in the language they understand.Let's unite borders by uniting against terrorism. #IndianArmy ki Jai

— arjun rampal (@rampalarjun) September 29, 2016
Salute the Indian Army, for protecting our national security with a strong reply to the terrorists. #SurgicalStrikes #IndianArmy

— Sunny Deol (@iamsunnydeol) September 29, 2016
JAI HIND !

— ashabhosle (@ashabhosle) September 29, 2016
Proud of the Indian Army for successfully carrying out the anti-terrorism operation.Glad the Government took this bold step,was about time!

— Akshay Kumar (@akshaykumar) September 29, 2016
While Bollywood's response has left us all in shock, even more shocking is the looming silence of our Pakistani celebrities! 
Pakistanis React to Adnan Sami & Amitabh Bachchan's Support for the Indian Army
When will our remaining celebrities break the silence and support Pakistani army, let's wait and watch!