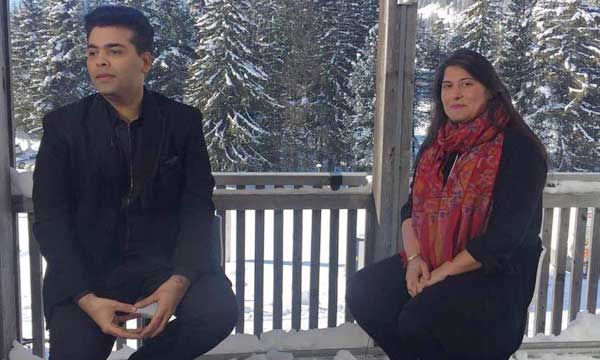 Just yesterday, Sharmeen Obaid-Chinoy was making rounds on social media for being the first Pakistani artist to Co-Chair at World Economic Forum 2017. Her tete a tete with Karan Johar was broadcasted live on the web and we bet, their candid chat earned a lot of views.
The talk between the Pakistani filmmaker and the Indian director touched many sensitive topics, making the discussion worth a watch!
Two-Time Academy Award Winner and the Co-Chair at 47th World Economic Forum Annual Meeting, Sharmeen Obaid-Chinoy featured with Karan Johar pic.twitter.com/nlpll9WqE0

— Weekly Social Diary (@SocialDiaryMagz) January 18, 2017
Fawad Khan in Bollywood
Of course, Fawad Khan's name popped up in their heart to heart and we all know it was inevitable! 
During their conversation. Sharmeen pointed out that she hopes that FK will yet again be seen in Karan Johar movies. But much to our dismay, the Bollywood director, very cautiously hinted that Khan will most likely never star in any of his movies.
"I have a great regard for talent and for Fawad Khan's talent. So just like you [Sharmeen], I hope and wish Fawad finds the best platforms because he is a prolific actor"
While he was all praises for Khan, KJo divulged that he would never want to endure the political pressure again for any of his upcoming movies
"According to me he is a terrific actor. Having said that I would never go through what i went through again. Neither the situation nor the apology"
On Partition Between India and Pakistan
While taking queries from the audience, the pair got hit by a powerful question that if they would ever think about making a film on subcontinent's partition and how it was a mistake.
Karan Johar replied that he would love directing romantic tales rather than making a film on a topic as touchee as Indo-Pak history
"I would never say anything in history is a mistake. We weren't there at the time nor were we making the decisions. We don't know if we even have accurate facts,"
Ban of Bollywood Movies & Pakistani Artists
Sharmeen revealed that the ban on Bollywood movies in Pakistan is self-imposed and will be soon uplifted in the upcoming days.
 "No one is in the favour of self-inflicted pain"
However, KJo shied away on commenting much on the topic and wholeheartedly agreed with Obaid's statement!
Sharmeen Obaid Chinoy & Karan Johar's Session at World Economic Forum 2017: Live Stream Timings & Details