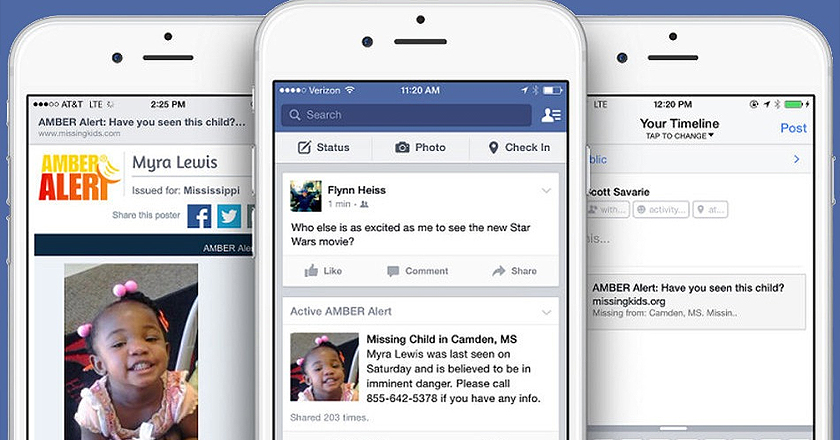 On Tuesday, Facebook has announced that they are making a partnership with The National Center for Missing and Exploited Children by becoming a part of the voluntary Amber Alert Program. The Amber Alert will now appear on the newsfeed of users across the country.
Not everyone is aware of what amber alerts are? Originating in the U.S in 1996, Amber alert is a child abduction emergency alert system, for American citizens and they are broadcasted through various direct media channels such as TV and radio, and online radios, road signs etc. Their main purpose is to instantly inform the entire community to assist in the search for and the safe recovery of the child.
Facebook has decided to publish these detailed amber alerts for users via computers and mobile devices. John Walsh, an advocate for this missing children organization, has stated that, "Facebook will put pictures, description of the vehicle involved. It is a serious game-changer".
According to Emily Vacher, the Trust and Safety Manager for Facebook Security, "If you see an Amber Alert delivered, it means you are actually in a position to be able to help. The best chance of finding a child comes when the right information gets to the people at the right time."
This is referenced at the fact that the alerts are regionalized and published for people in a very specific place, at the time when the child has been abducted or has gone missing. These alerts are not a regular update, but will appear very occasionally so the users can actually take relevant action in case they see one whilst scrolling through their feeds.
This is a unique opportunity which is being very cleverly employed for a very good purpose. Basically this is foreseen as an activity which will have a major impact especially in rural regions.