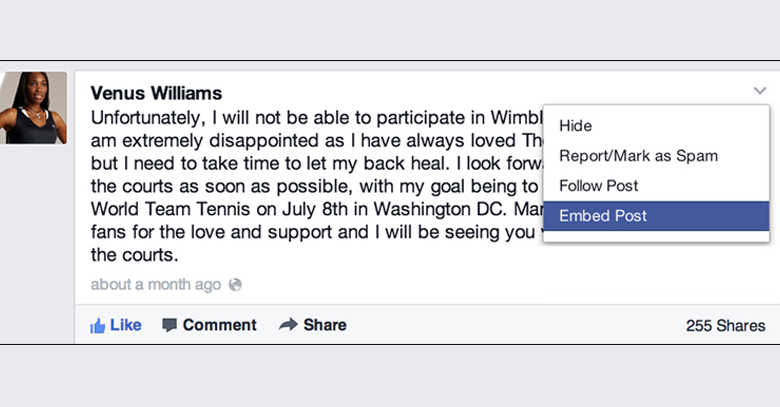 5 views
Facebook officially added the feature of 'Embedded Posts' for all its users. A concept not so new for Twitter or Instagram users, "Embedded Posts" are a way to put public posts – by a Page or a person on Facebook – into the content of your web site or web page.
According to Facebook Developers, "The embedded post will show any media attached to it, as well as the number of likes, shares, and comments that the post has."
"Embedding posts will let people, using your web site, see the same rich information that is shown on Facebook.com, and they will be able to follow or like content authors or Pages directly from the embed," the Developers further said.
Facebook is rumored to have been trying to keep up with changing times, after an independent research, by comScore in July, showed a decrease in Facebook visits.
Till now, reposting something on Facebook required copying the text or taking a screenshot but with this feature Facebook users will share the same luxury Twitter and Instagram users have always enjoyed.
The feature will also benefit celebrities, sportsperson, spokesmen and other news makers in updating their followers, as Facebook does not restrict its users to 140 or 160 characters.
Whatever the reason may have been, inclusion of a widely accepted feature makes Facebook both reachable and up-to-date.
Getting people to interact directly with a post would benefit Facebook for obvious reasons, but it will also benefit users especially media and Public Relations (PR) agencies.