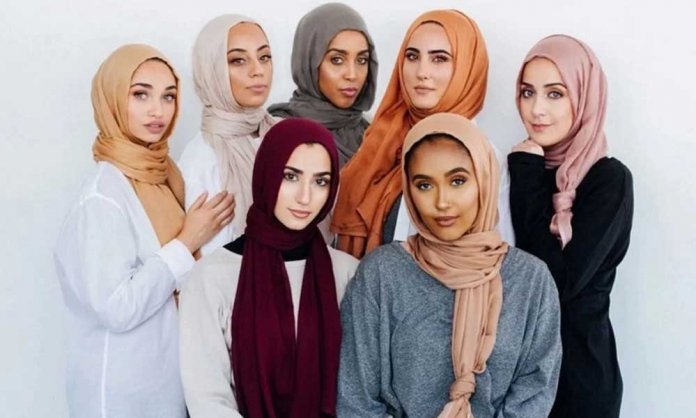 With so many weddings happening and Eid-ul-Adha right around the corner, one cannot help but Google ways to make an impression and stand out in a crowd.
While we'll find multiple sources to check for the best hairdos to flaunt this season, those sisters who cover their head hardly find anything interesting to up their style game.
Well, that's not entirely true! The original hijab has undergone a lot of styling and changes so you do not have to look boring or compromise on your style. There a number of tricks to wear the hijab and slay like a pro.
Either skip the plain pinning or add colour, prints, and accessories to oomph up your overall look and personality; the choice is completely yours.
Taking inspiration from the famous hijab-wearing blogger, That Karachi Girl, here are 5 ways to style your headscarf and steal the spotlight:
1. Drapes & Bows
The silky shiny texture makes it perfect for occasions such as weddings and parties. Use a hijab cap underneath to make sure that the scarf doesn't slip. Drape it, bow it and you're good to go!
2. Back-Tied Knot
Use soft cotton because it's breathable and comfortable. This back-tied knot look is simple and perfect for this season. Do not forget to up your style game by adding some dangling earrings.
3. Silky Pashmina Drape
Silky pashmina gives a formal feel to your look. The fabric drapes beautifully but needs to be worn with a hijab cap. Pair it with a delicate headband and step out looking perfect for any event.
4. Double Drape
This specific scarf is perfect for semi-formal occasions. Double drape and accentuate the look with the perfect pair of earrings.
5. Signature Style
While this may look complicated, it isn't.  Tie your hair in a bun and wear your hijab cap. Then start with placing the scarf at your head and secure the scarf at the back with a safety pin. Now wrap the short end around your hair bun and secure the wrap. Then take the other end and drape it around your head leaving the loose end and pinning it behind your ear.
Accessorize as you like! You can use your entire earring collection that you weren't able to use before.
Which style to drape the hijab did you like best? Comment and let us know.
Stay tuned to Brandsynario for more news and updates.
#SareeTwitter – Pakistani Celebrities who Stole the Show in their Sarees!