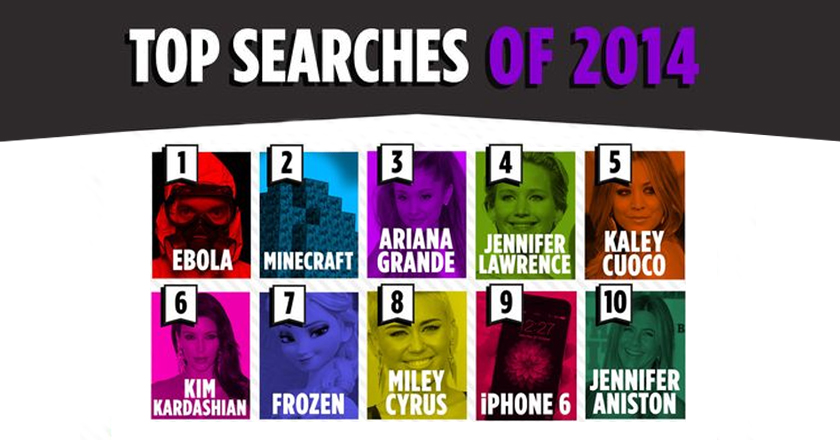 Every year, from the top obsessions to top news stories to most searched celebrity gossips, the search engines sift through billion searches to present the top ten searches. The search engine giants release a number of lists of Top Searches for the year. Last week witnessed, three of them, Yahoo!, Bing and Ask.com, releasing their list for the year 2014.
Amongst the top searches, the epidemic Ebola scare was one of the most common news story explored by search engine users across all platforms. While the Ebola outbreak was the most searched item at Yahoo and most news search term at Yahoo and Ask.com, it took up the eighth place at Bing.
Yet another commonly searched term at all search engines was the most popular animated movie of all times, Frozen. Disney's Frozen has broken many records and is continuing to do so as the holiday season approaches and parents flock to shops, to buy the Queen of Arendelle merchandise rather than Barbie dolls.
Other commonly searched news items included the Malaysian Airlines flight MH370 tragedy, the death of the comedy star Robin Williams, the teenager Michael Brown's shooting in Ferguson, Missouri, the Ray Rice domestic violence controversy and the rise of militant group Islamic State in Iraq and Syria (ISIS).
Amongst celebrities, Kim Kardashian, Miley Cyrus and Jennifer Lawrence were the most common people searched for. Kim Kardashian took over the 2013's first place of Beyonce at Bing. Other popular searches revolved around the launch of the much anticipated iPhone6, Obamacare, leaked pictures of celebrities, celebrity babies, World Cup and Super Bowl.
The search engine giant Google is yet to release its list for Top Searches 2014.