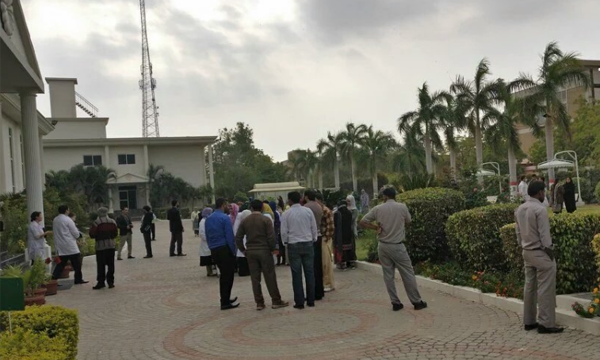 Seems like an Earthquake had hit Karachi as tremors were felt in various parts of the city! The intensity of the earthquake is reported to be 3.6. No loss of life or property is reported as yet.
Gulshan-e-Iqbal and Gulistan-e-Johar are the chief areas where earthquake shocks were felt.
The University of Karachi and NED University's students have been reported to exit their classes as soon as they felt the tremors.
Citizens took to Twitter to report the horror they felt!
https://twitter.com/ShadowwHunterr/status/821236677997985792
#Earthquake jolts felt in #Karachi and it's adjoining areas pic.twitter.com/HvCgGQ9Rwz

— PakWeather.com (@Pak_Weather) January 17, 2017
3.6 #RecterScale #Earthquake in parts of #Karachi reported
Couldn't nottice it in #Defemce area noticed in #Johar & #Gulshan localities

— Syed Jaffer (@MrSyedJaffer) January 17, 2017
Ya Allah khair. #earthquake #Karachi #Gulistan e Jouhar

— Rizwan Ahmad (@Rizwana25635759) January 17, 2017
#Earthquake in #Karachi of 3.6 Magnitude. Stay safe everyone.

— M Shoaib (@Being_Shuaib) January 17, 2017
It wasn't of a big magnitude but the depth was too short.
May Almighty Allah save everyone!#Earthquake#Karachi

— Shehryar Ali Khan (@MujheBhiNaiPata) January 17, 2017
Stay tuned to Brandsyanrio for more updates!