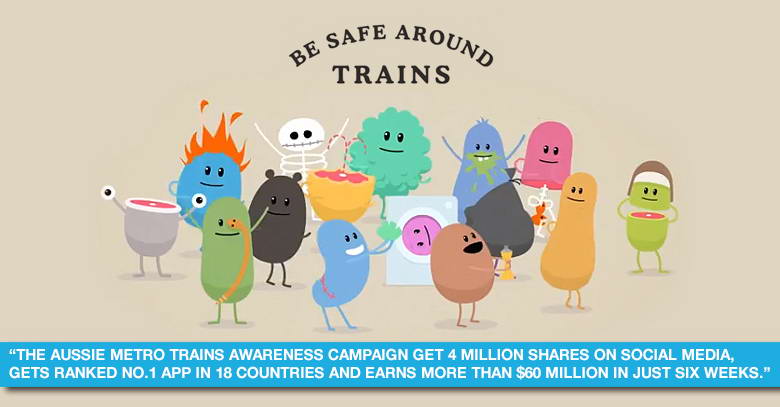 Just when it seemed that we had seen every viral video on the Internet, McCann came up with the most imaginative awareness campaign to reduce carelessness that can cause fatal accidents.
The campaign became one the biggest ad hits of 2013, as its catchy music and silly lyrics entranced the listeners. The three-minute video has humor, silliness and more importantly a very memorable tone.
McCann's Melbourne creative John Mescall and his team, responded most cleverly to a straight forwarded brief provided by a small (local) marketer The Australian Metro. The brief asked McCann to create awareness for people to be more careful around trains and also in their daily life.
As a result, 'Dumb Ways to Die', a three-minute long video was posted on YouTube. The video shows cartoon characters dying in bizarre ways – from taking off a helmet in space to using one's "private parts" as piranha bait. All along a catchy song is playing in the background.
At the end, however the song said that the dumbest ways to die had to be standing on the edge of a platform, or driving around the gates at a rail crossing.
The song played on the radio, Internet and Television while its karaoke version encouraged people to upload their own versions of the song.
The campaign earned a lot of acclaim and acknowledgements along with sweeping the esteemed 'Cannes' Award. "Dumb Ways to Die" also racked up some impressive results on social media and music platforms according to McCann.
1. Music sales: Just over 100,000 copies sold to date.
2. iTunes charts: 28 countries. Peaking at No. 3 in Hong Kong.
3. Free downloads: 250,000
4. YouTube views: 60.1 Million
5. Social shares: 3.94 Million
6. Game: 15.1 Million players
7. Current daily players: 1 million
8. App Store ranks: No. 1 free app in 18 countries including USA, U.K., Canada, Australia and Germany.
9. Earned Media: $60 million in six weeks.
According to Metro's release, the country saw a 21% reduction in accidents and deaths compared to last year.