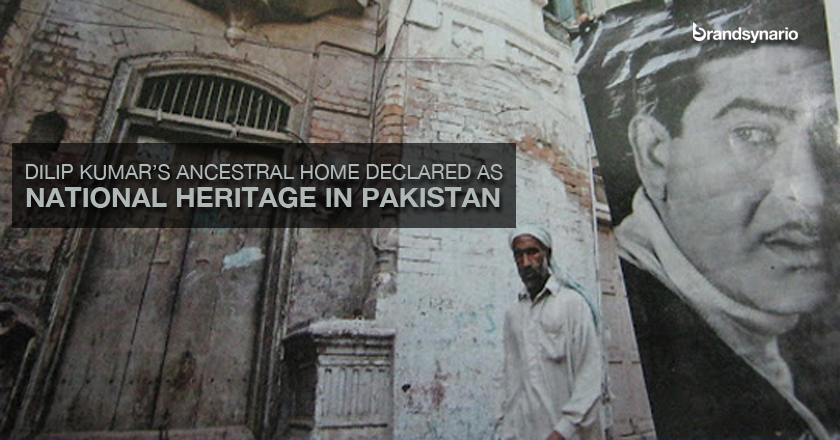 Born to a fruit merchant's Pashtun family of twelve children, Mohammad Yousaf Khan, who the world now sees as legendary Dilip Kumar roots back to Peshawar, present day Pakistan.
After being honored with the title of Nishan-e-Imtiaz by his birth country back in 1998, Dilip Kumar's ancestral home, QissaKhawani Bazaar,is now being declared as national heritage in Pakistan. 
According to sources, the house will be converted into a museum showcasing the actor's journey from Peshawar to Mumbai and a gallery will also be constructed in his honor.
The Ministry of Information, Broadcasting and National Heritage have been formally instructed to acquire the house.
"The PM's decision is testimony to the enormous importance Pakistan attaches to promoting art and culture and paying tribute to living legends like Dilip Kumar, whose contributions to the sub-continent cinema are unparalleled," said Basit.
It's being said that Nawaz Sharif is planning on promoting cultural relations between India and Pakistan. It seems like he had already started working on it as he visited members from the Indian film industry during his last visit to India in June.
According to The Nation, PNCA's acting director general, MashoodMirza, a special meeting would soon be held to finalize the development of the legend's five-storied house which is in a shabby condition and is being illegally occupied by a faux 'relative' of Dilip Kumar. He also said that the reconstruction of the house would take place in accordance to the stature of the actor and his fans.
Any guesses on who would inaugurate the museum? Yes, you're right-the legend himself!