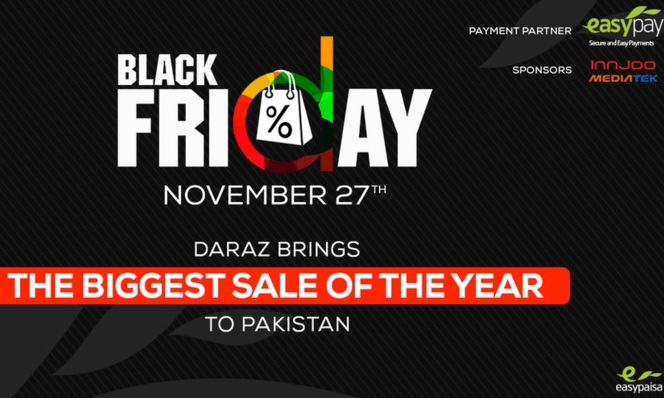 Pakistan's shopping industry saw a major breakthrough on November 27 – The Black Friday, when the leading online shopping portal of the country, Daraz.pk recorded massive 1.5 million visits on the website and 55 times more orders than a regular shopping day.
Shoppers enjoyed incredible deals on phones, TVs, gaming consoles, fashion, appliances and more, availing a total of Rs 132 million worth of discounts from the company.
The company sold a large number of iPhone 6s handsets, which were available at 26% discount (Rs 18,000 off), within the first few minutes, and the number of men's shoes sold on the day were equivalent to the sale made in three months even though men's shoes is a strong category on a regular day as well.
Daraz.pk also revealed that it sold more fridges, washing machines and gaming consoles on Black Friday than it has in the history of Daraz.
66.7% of the orders on Black Friday were from Karachi, Lahore and Islamabad – 40.3%, 17.5% and 8.9%, respectively and the rest were all from other Tier 2 and Tier 3 cities.
30% of these orders were delivered on Black Friday itself.
Sources from Daraz confirm that more than  out of total 1.5 million visits, 25% of the visits were generated from the mobile app of Daraz.
Read More: Black Friday Deals in Pakistan 2015 Biggest Sale of the Year
A massive 68% of discounts were offered on smartphones via the portal. This exciting offer resulted in more than 8000 mobile phones being sold from theDaraz.pk portal by 12 pm noon on Black Friday.
The day also resulted in the most amount of fridges and washing machines being sold in the history of the website.
The total orders were 55 percent more than any average day on the shopping portal. Also, one-third of the orders were pre-paid.
Take a look at the trending searches on Google from April to October 2015 for online shopping website ke keywords daraz, home shopping, dukan and yayvo: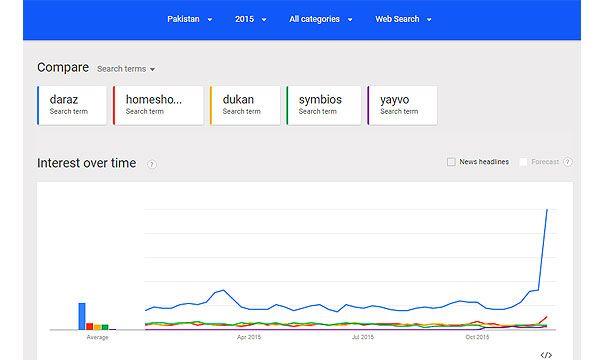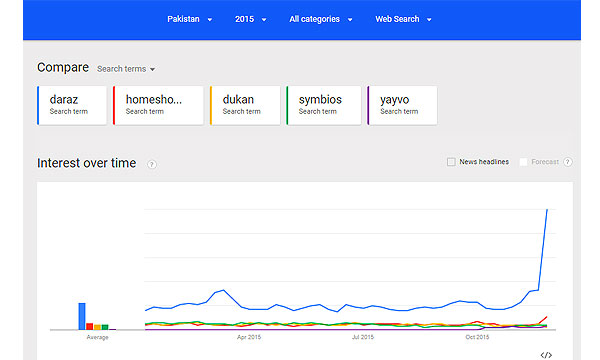 Also, take a look at the trends of black Friday and white Friday from April to October 2015: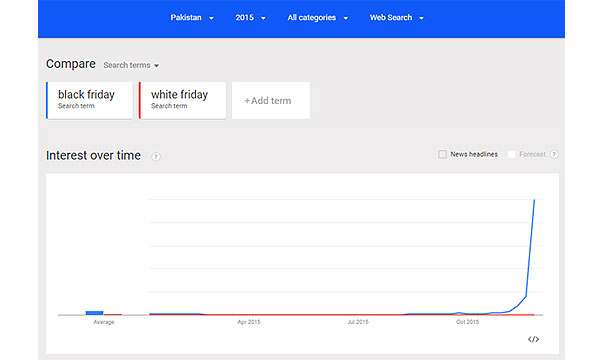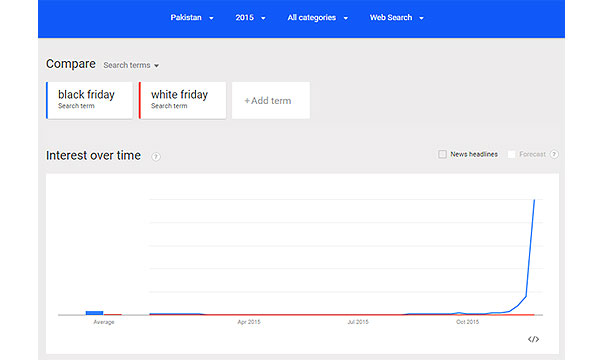 This was the first time Black Friday Sale took place officially in Pakistan. The emergence and growth of the e-commerce sector in Pakistan has been very fast-paced and on an evolutionary level this year around.
It's safe to say that the Black Friday Sale for 2015 was such a massive success that it is bound to be followed by all online portals in the coming years. The international trend has arrived locally and is bound to stay this time.
Check out the infographic below to see the pictorial representation of the information:
What is your opinion regarding the massive success of Black Friday? Let us know in the comments below.