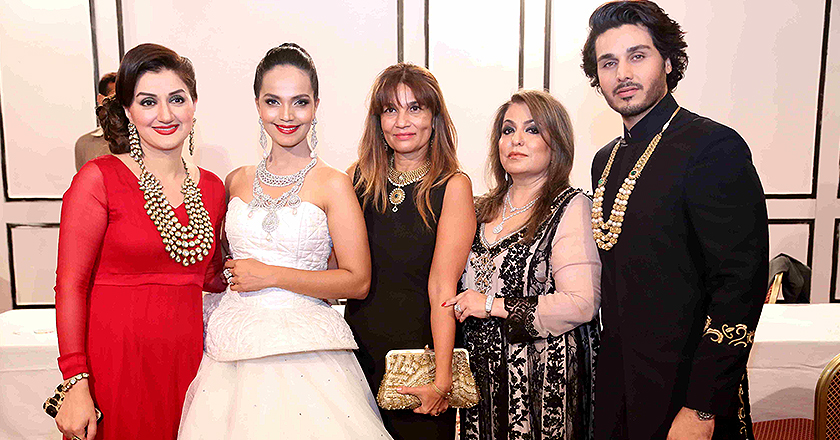 Damas hosted a spectacular evening to showcase their latest jewelry collection.  The night was marked by the presence of celebrities like; Aamina Sheikh, Shehla Chatoor, Nomi Ansari, Sunita Marshal, Faiza & Ansari Ahsan Khan.
Marquee hall Karachi was adorned at its best to welcome the glitterati of Pakistan's entertainment and fashion society, all gathered to take part as the International jewelry Tycoon Damas, exhibited the best of their jewels in Pakistan.
The invitees witnessed the most spectacular fashion showcasing  of the most exquisite Italian craftsmanship, a fusion of traditional elegance, encrusted with gems fit for a sumptuous soiree from Damas's Fall 2014 collection.
The night was further embellished by the presence of Pakistan's top models, including Faiza Ansari, Tatmain, Fauzia Aman, Sunita Marshal, Rubab, Areeba, Abeer, Maham, Nazish, Gohar, Sidra & the gorgeous Aaminah Sheikh as the show stopper.
These stars walked the ramp dressed by the finest of Pakistan's Fashion Industry, Maheen Karim, Shehla Chatoor, Sadaf Malaterre, Nomi Ansari & the famous Norwegian Brand Floyd by Smith, bejeweled by Damas with their divine pieces from their collection.
Damas has been striving to put forward its master craftsmanship into finely detailed jewelery and accessories since 2007. Ruby Zahid, the brain behind Damas, has a who has sat through various technical courses and learnt grading different stones and work with different forms of materials, found a special fascination for diamonds, gemstones, gold and pearls.
According to Ruby; Damas came to Pakistan and since then there has been no looking back. She claims that what sets aside their jewelry & especially bridal jewelry from others is their mutual hard work of gemologist, craftsman and designers.
Damas not only plans to flatter the on-lookers by their new collection, but also plans to continue the exhibition for public from 23rd till 26th of August, at Shalimar Hall Pearl Continental with up to 30% discount on diamond and gold jewelry present at the exhibition.