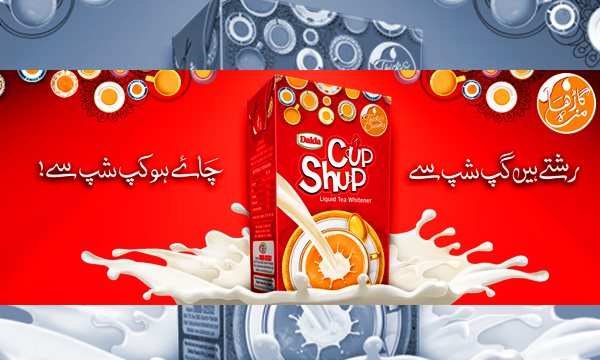 Dalda Foods has launched a new product to their already diverse product range: a tea whitener by the name of CupShup.
Dalda is already a well-established and household brand name in Pakistan and it's main products include Cooking Oils, Olive Oils and Banaspatis. The launch campaign kicked off on 8th September meanwhile the complete TVC for the product began airing on Friday, 11th September.
Take a look at this one-minute TVC featuring Amina Sheikh and Meekal Zulfiqaar:
[fb_embed_post href="https://www.facebook.com/video.php?v=874552502634301&set=vb.851401568282728&type=2&theater/" width="550″/]
Conceptualized by IAL Saatchi and Saatchi, take a look at this full-page printed advertisement for CupShup's launch on Jang Newspaper and Express.
The tea whitener is being promoted with the tagline "Rishte hen gupshup se or chai hai CupShup se" as the ultimate thick and creamy whitener for tea-lovers.
Take a look at the introductory video for the product as well:
[fb_embed_post href="https://www.facebook.com/video.php?v=875547992534752&set=vb.851401568282728&type=2&theater/" width="550″/]