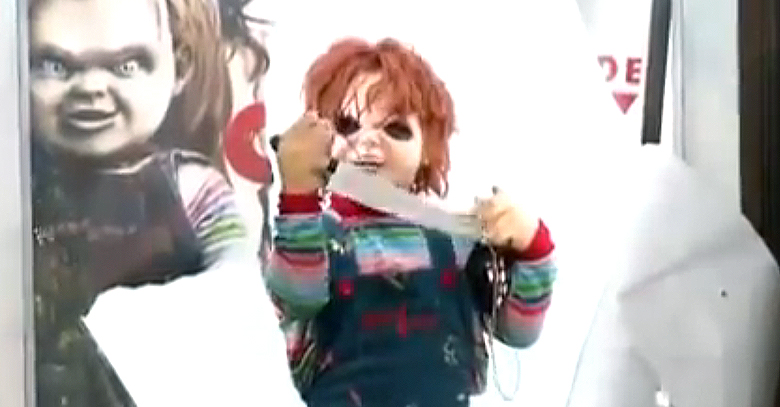 How would you feel if a character from a horror movie followed you with a knife in real life? Definitely, not pleasant. However, the advertising industry globally seems to portray the new trends of some marketers. People have started believing that the best way to get a customer's money is by making them experience the actual terror.
The Brazilian variety show, Programa Silvia Santos, together with the approval of Universal Studios, perhaps performed the most terrifying prank and a novel way for experiencing and promoting the new "Chucky" horror movie.
The prank involved fixing the movie's poster on a promotional display box to hide a man dressed up as the 'Chucky doll', the movie's ghoulish character.
Watch the prank video here: 

Unsuspecting bus passengers, whilst awaiting their bus, were suddenly surprised by a man dressed up as Chucky tearing the poster with his knife , breaking out from the display box, and frightening them out of their minds. This movie is a sequel, having its translated name as 'The Curse of Chucky'.
Santos, the entity behind this activation, is known for these kind of creepy pranks in Brazil, especially famous for his prank where the dolls came alive in a retail store.
However, the inspiration for this prank was from a Columbian show, which then Santos improvised on by adding sound effects, a prop knife, and using a popular , nightmarish film character for its sequel's promotion.
Undoubtedly, people got disturbed, and ran into a busy street to escape the knife-holding prankster, yet they were thoroughly entertained.
This brings us to our next debate, is 'prank-vertising' going too far in terms of marketing, and breaking ethical boundaries? Also, if such pranks are entertained, there is a great possibility of them getting more sinister than we have seen so far causing psychological damage especially when children are also the recipients of such pranks.
Watch the movie trailer here: