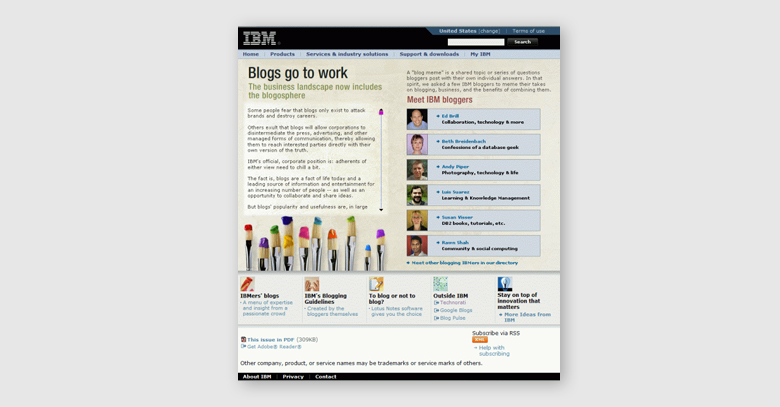 In this dog-eat-dog era of competition, business organizations are ravenous to carve out, create and maintain a leading edge over the competitors.
One tool that can give organizations the very same is the direct engagement with the consumers. Corporate Blogging gives companies an opportunity of tête à tête with consumers. It's just like a virtual dating point of companies where the consumers get an opportunity to have heart-to-heart communication with brands.
Be it heartless catharsis or venting out anger on poor customer service or public display of affection with the emotional side of brand, Corporate Blogs are the platform where brands amorously interact with their lovers (consumers).
Corporations have adopted the corporate blogs to humanize communications. Demands from consumers to become more transparent and personally available have put pressure on companies to launch their corporate blogs.
Big names like IBM, Wal-Mart Stores, Intel Corporation, Honeywell International, General Electric Company and Eastman Kodak Company set up their blogs as early as 2006 realizing the importance that no medium can give them first hand experience of interaction with customers apart from those present in the social media sphere. Just look at Marriott's blog with level of interaction.
There are eight compelling and convincing reasons why any business organization should have a blog on self-hosted domain.
1. Exposure
Any blog that adds value to other businesses will be linked to, by other blogs and websites and tweeted about.
This has the inevitable result of putting your brand in front of more people. Blogs have widgets to share their contents at social media sites like Twitter, LinkedIn and Facebook. This sharing keeps on going non-stop, depending upon the uniqueness of content.
So blogs set the ball rolling for spreading and disseminating information that gives brands and organizations unique exposure.
2. Traffic
A blog with interesting content will be subscribed to by visitors who will re-visit whenever content is posted.
If blog is integrated with the website, visitors will land on the company's website. More traffic at any website results into more subscription.
3. "Google"ability
Due to the dynamic nature of contents of a blog, blogs make brands surface high on search engine results. What else could be a more compelling reason than enhanced searchability on the internet?
4. Business Leads
Corporate blogs which update their contents on a regular basis brings more qualified leads than any other source of communication.
A blog positions your company and attracts the right type of leads as it develops and publishes content for the market you want to attract.
5. Reduces Marketing Expense
Setting up a blog, maintaining and topping up its contents is remarkably inexpensive as compared to offline media. With active and interactive blogs, companies can engage their customers at much cheaper rates and easily as well.
6. Impact on Sales
Today every business organization is striving for incremental sale. The synergy of higher traffic and increased lead quality inevitably produces an increase in sales.
The cost of acquisition of new customers decreases considerably when business is promoted through blogs.
7. Educational
One of the best tools to enhance a company's sale is to educate prospective customers about your products. This objective is met gracefully through interactive blogs.
8. Integration
Companies can integrate their blogs by inserting plug-ins and widgets of social media tools like Facebook, LinkedIn, Twitter , YouTube and social book marking sites like Reddit and StumbleUpon etc. By sharing through widgets, blogs literally get viral that bring more traffic, hence more business leads and more sales.
Before any company can move on to the blog sphere, it has got to list its blogging policy.
In the absence of blogging policy, a blog will become directionless as a rudderless ship. Internal and external communication stakeholders need to sit down and decide about guidelines for blog. Without a comprehensive corporate blog strategy, most corporate blogs fail to fulfill their purpose.
Seth Godin has said that most corporate blogs suck. There are some best practices that business organizations can apply to make blogs effective tools.
a) Never Sell
Why do people switch channels when they see commercials? Simple, people don't want to be given a relentless sales pitch.
One of the lethal mistakes that social media marketers make is that when they use social media to sell their products.
Blogs are marketing tools in a subtle way. Business organizations have got to stay away from blatant marketing at blogs.
b) Preserve Freshness
If a visitor visits the blog and last post is 6 months old, the customer is obviously put off. Nobody wants to visit a shop which is not providing fresh material.
Starting a blog is the easiest thing on the planet; the real challenge is to maintain it.
Companies can dedicate a resource internally or outsource content generation to continually update their blog and maintain communication with their customers.
c) Content
In blogosphere, content is the king. Updated, original and relevant content always brings visitors back. Blogs with 'me-too' content never rank higher in search engines.
d) Harmonious
If a blog is not in sync with organization's values, vision and mission, it is just like a stray bullet. Blogs don't work in silos.
To run a blog effectively, it must be well-integrated with the overall marketing communication of the organization.