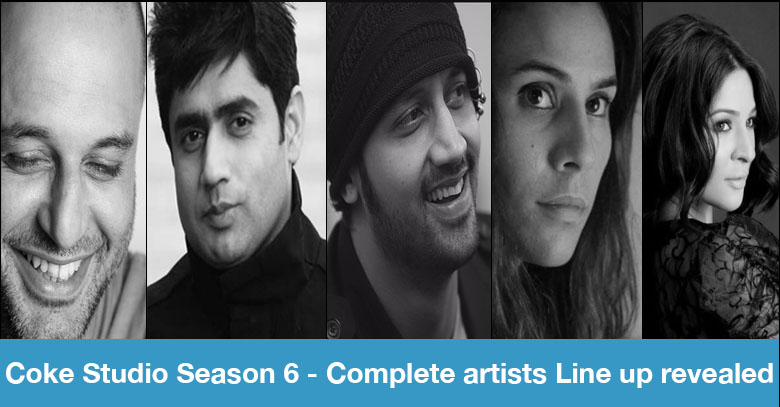 Pakistan's most awaited music show, Coke Studio revealed the names of the performers for Season 6 during the launch event that took place yesterday, on October 1.
Earlier, it was confirmed that Coke Studio season 6 will start this October. However the detailed schedule of the season will be released on October 6th.
The launch event celebrated the sixth edition of the grand 'made in Pakistan' International sensation.
"This Years' Coke Studio voyage will witness a fusion of Eastern, Western and regionally inspired music for which the platform has come to be renowned," the official press release from Coke Studio, released on Tuesday, stated.
"However, this season goes deeper in its journey, exploring the international heritage of popular local music genres, tracing these global influences that have left an indelible impact on Pakistan's national and cultural musical identity," it further said.
The press release also substantiated the rumor that Coke Studio Season 6 will include international celebrities by saying, "Season 6 will incorporate global music influences spanning from Fes, Morocco, to the Balkans, the Ottoman, and Kathmandu, Nepal."
As confirmed in the launch event yesterday, the artists that would be seen on the crimson floors of Coke Studio this year include Abrar-ul-Haq, Ali Azmat, Atif Aslam, Asad Abbas, Ayesha Omar, Fariha Pervez, Alamgir, Muazzam Ali Khan, Rostam Mirlashari, Rustam Fateh Ali Khan, Saeen Zahoor, Sanam Marvi, Sumru Agiryürüyen, Umair Jaswal, Zara Madani, Zeb & Haniya and Zoe Viccaji.
Coke Studio is the first of its kind showcase of the talented musicians Pakistan is blessed with. As each performance is recorded live and uncut, the craft and synchronization of instruments resonates with the symphony of the vocals submerged in the essence of their lyrics. Coke Studio stands out as a celebration of Pakistani music for the last 6 years.