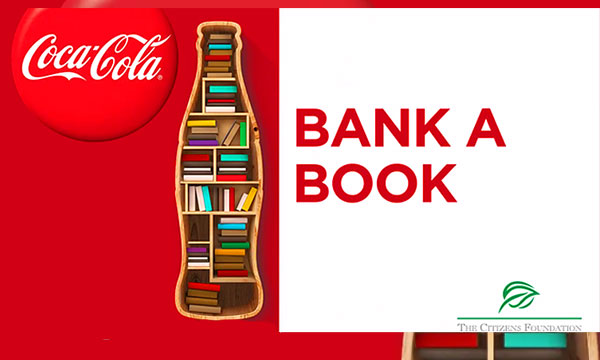 148 views
UNESCO marks International Literacy Day on September 08 each year, to highlight the importance of literacy for individuals, communities and societies.
This year the theme of the International Literacy Day 2015 is "Literacy and Sustainable Societies" which will be celebrated here in Pakistan in association with The Coca-Cola Export Corporation.
The proposed activity, Coca-Cola Book Bank, was in fact first conducted at the Karachi Literature Festival 2015, in February this year.
Read More: Coca-Cola Pakistan to Award 'Best Non-Fiction' Pakistani Author at KLF 2015
The primary objective of the activity is to request the public to donate old textbooks (and any other books) to the Book Bank, which in turn will then collect all books and pass these on to The Citizens Foundation, for use by the less-privileged children studying in TCF schools.
Now operating in the second phase of the activity, the Book Bank will become mobile and will be visiting various locations throughout the day to collect book donations.
The Mobile Book Bank will be actually a supply truck of Coke which will be used for storing books and keeping Coke supply to be given complimentary to donors as a token of appreciation from the Company.
It would be really appreciated if you could take some time out of your busy schedule and help us spread the word about this activity so that we may be able to collect as many books as possible. Please find the digital poster of the activity attached with this email. Take a look at the official video:
[fb_embed_post href="https://www.facebook.com/1527753387475028/videos/1634211180162581//" width="550″/]
Also, if you are willing to donate books to the Coca-Cola Book Bank then you can fill this registration form and their team will get in touch with you.