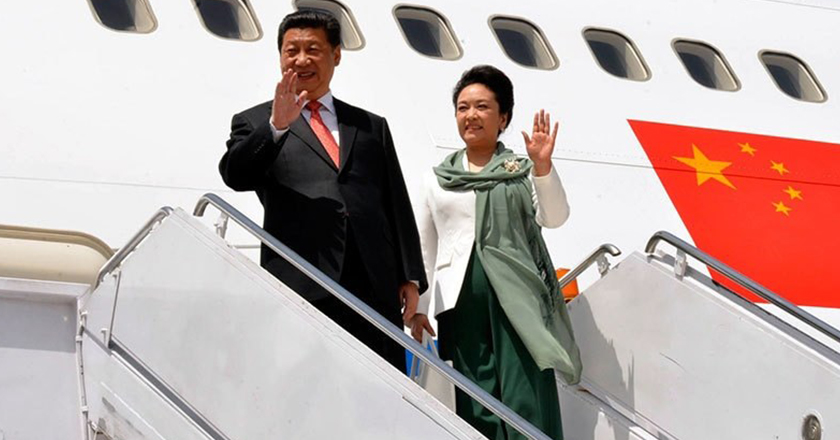 Chinese President Xi Jinping and his wife made a show of patriotism while visiting Pakistan; Pakistani patriotism that is.
China's first lady Peng Liyuan wore a plain white jacket over a deep green dress with a light green scarf to go with it, accessorized with a brooch.
Liyuan seemed determined to prove her loyalty to Pakistan, as she wore green throughout the visit, especially when attending a cultural show with the Prime Minister Nawaz Sharif and his family.
Green ties were sported by Ahsan Iqbal, Pakistani Federal Minister and Sardar Ayaz Sadiq Speaker of the National Assembly, reflecting the show of patriotism.
Amid all this patriotism, Pakistan's leading ladies disappointed. Kulsoom Nawaz was mostly seen in drab shades of pink and beige — surely something brighter would've signified solidarity more effectively.
Pakistanis loved Liyuan's look and praised it on Twitter:
This graceful lady alongside Chinese president is of course his spouse,Mrs. Peng Liyuan. A famous folk singer & music grad. #tidbits

— Waqar Hussain (@_waqarhussain) April 21, 2015
HE #XiJinping 's wife @pengliyuan had more personality then Wives of @NawazSharif and #MamnoonHussain, She reflected to be a decent one

— Anwer Abbas (@PaarasSani) April 21, 2015
@MaryamNSharif receiving First Lady of China Madam Peng Liyuan at Prime Minister's Office in Islamabad. pic.twitter.com/vzCBrrIzdc

— ???? ????????? (@ijaz_ir) April 21, 2015
Will preserve this picture for ever ! ?????? #comedycircus #lol #PakChinaFriendship #PakistanChinaFriendship #Pakistan pic.twitter.com/adDwa2qxOs

— SandeepBaliga (@sandeepbaliga) April 22, 2015
#China's first lady Peng Liyuan style screams brotherhood #Pakistan #XiJinping pic.twitter.com/8vbYh6pykf

— Nadeem Malik (@nadeemmalik) April 21, 2015
Also, the Chinese first lady is classy af! #PengLiyuan ???

— Eissa Saeed (@senoreissa) April 21, 2015
#PengLiyuan, A Living Example For #Women http://t.co/IxPn2R9axw via @PakistanTribe pic.twitter.com/VvgCVIudnl

— Pakistan Tribe (@PakistanTribe) April 21, 2015