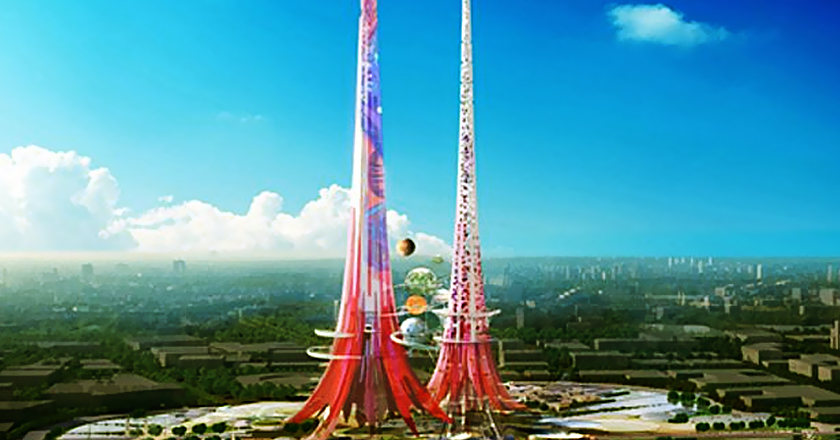 By Zoya Anwer
Burj-ul-Khalifa is supposed to be the tallest and the most spectacular building ever, or so we thought.
However it seems that Burj-ul-Khalifa would now be another tower of the past because UK based architecture firm, Chetwoods is here to not only build the tallest towers but also save the world! 
According to the structural details "The Phoneix Towers" would be one whole Kilometer, about 3,281 feet tall. The project aims at solving the very hazardous pollution problem of China and hopes to revive the liveliness of the city of Wutan.
The firm plans on using a very complicated and sophisticated system to filter the city's air and water in order to collect solar energy, wind and hydrogen power. Also, a vertical garden is to be drafted which would use the rainwater and the building will have restaurants, businesses and is expected to get central China's "Fourth pole" rid of its ecological crises.
The founder Laurie Chetwood explained in an interview, "It doesn't just stand there and become an iconic symbol of Wuhan, it has to do a job. We've applied as many environmental ideas as we possibly could to justify the shape and size of them."
Apart from the environmental benefits one of the catchiest things about the building will be the name and ideology behind the towers. Though a Western firm is dealing with the towers, the idea behind the whole structure is parallel to Chinese myths and concepts about rebirth in the form of Phoenix and the two towers represent the two genders of the iconic bird. This project also aims at bridging the gap between Western firms and China.
The project will be executed within three years and soon after the city of Wuhan will have the tallest buildings of the world.