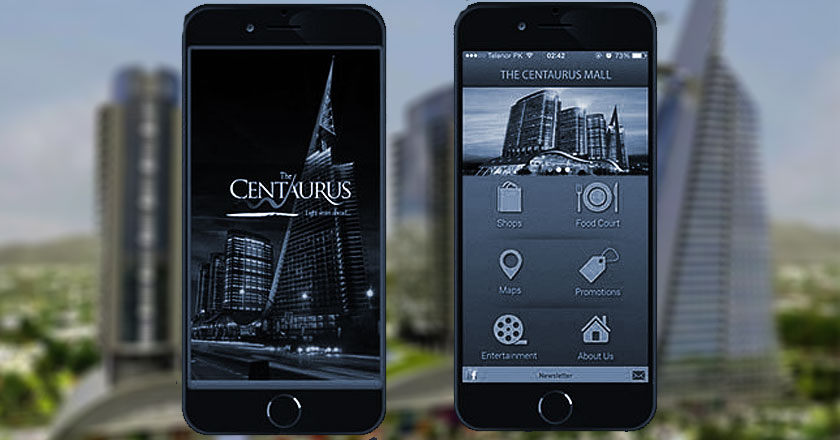 Centaurus Mall in Islamabad has introduced its own mobile app to assist people visiting there. Centaurus Mall has stepped up the game for other malls by being the first mall in Pakistan to introduce a dedicated mobile app. 
Marketing Manager Centaurus, Mr. Kashif Butt stated that by introducing 'The Centaurus' app to the Android and iOS stores, Centaurus Mall has proved itself to be a trendsetter in the market.
This app has been developed by the software/app developing agency Single Click. They are enthusiastic about their app and have promised constant updates and betterments to the app in the future. A witty marketing move on the malls part, this app has been downloaded over 1000 times within 4 days. Available both on Android and iOS, this app is sure to bring in some good business. 
Today's customers are always on the move and Centaurus Mall is recognizing the changing market and fashion trends along with adapting to these changes.Considering customer needs, this app has plenty of features that appeal to everyone's taste and needs.
The app offers several features such as:
• A quick search option features complete list and details of all the brands under the Centaurus roof.  The brands have been made easy to find through categorized division. These brands include clothing along with food.
• Movie schedules along with ongoing promotions on the movie shows are delivered to the customers through push notifications in the app.
• The promotion feature in the app helps its customers to access different promotions by brands by scrolling through the brands list, featured map and details about the brands. Digital promotion banners reading 'View Current Promotions' or 'View brand Promotions' alert you to ongoing promotions and launches by your favorite brands.
• The hassle of searching for particular shops in a mall can consume time even if it is just a little bit. The Centaurus app has remedied this problem for its customers through featuring virtual tours and complete floor and map plans of the four floors of Centaurus Mall.
The extremely detailed maps section of the search feature in the app is quite impressive and accurate. For locating specific shops of you interest, a pin drop feature has been provided within the app.
This sure is a good news for al the residents of Islamabad. Here is to hoping there is a launch of apps for Dolmen City Mall