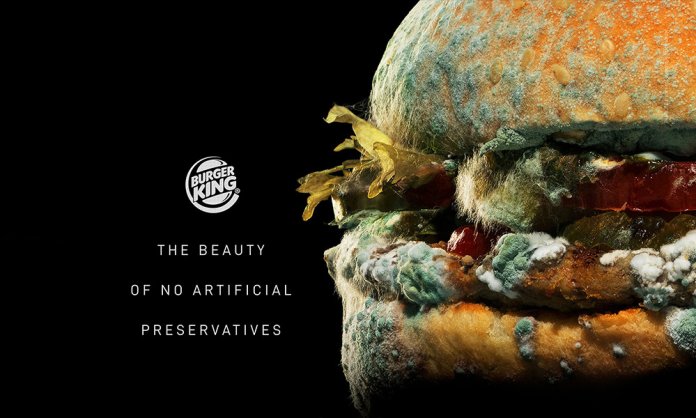 Burger King's latest ad campaign notably emphasizes the fact that the franchise has moved away from artificial preservatives has kept their consumer's health at the forefront.
The newest Ad devised by Ingo in Sweden showcases a Whopper being built layer after layer, only to sit in the same place for a full month, eventually developing a forest of mold. Who would take the risk and showcase a moldy burger? Only the franchise that gives utmost importance to the quality of the food they provide to their consumers.
Fernando Machado, Chief Marketing Officer, Burger King America, talks about the  backstory for the creative idea behind this Ad campaign. He is truly a 'grand brand genius ' who pushes the boundaries when it comes to innovation and creativity.
Apparently, a man from Iceland, last year designed a museum-style exhibit showcasing an uneaten 10-year-old hamburger and fries from Mcdonald's that didn't happen to decompose as much as you'd expect.
Watch the newest Ad here:
A time-lapse showcasing a beautiful Whopper turning into a forest of mold is what Burger King is extremely proud of. It is portrayed as art in an eye-catching way by the makers of the Ad that despite the fact that the burger is covered in the mold you would want to eat it, knowing that it is preservative-free.
Burger King has removed all artificial preservatives from its Whopper in most of the European countries and the United States. However, the rest of its restaurants around the globe will be preservatives free at the end of this year. The franchise has made a very conscious choice of removing MSG and high-fructose corn syrup from its kitchens.
Brandsyanrio had the pleasure of speaking to Chief Marketing Officer of Burger King, Fernando Machado at the AdAsia Lahore when he visited Pakistan for the first time. We asked him what his plans are for the future and what he would say is innovative in the digital medium. Watch below to see what he had to say in the video.
For more news and updates, stay tuned to Brandsynario.