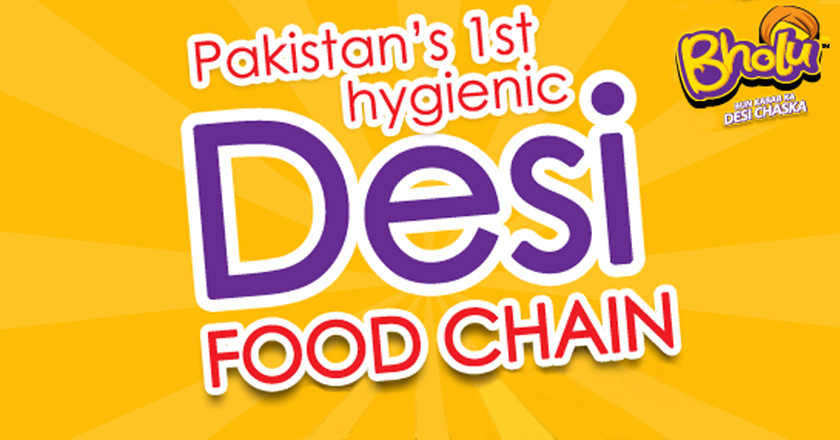 By Zoya Anwer
Good food and a win against India are perhaps the only two things that can make our nation happy regardless of its situation.
Most of us have grown up eating Bun Kebabs and burgers but deep down even we all know that local Bun Kebabs beat international chain burgers any day.
With Karachi galloping away with creative proprietors venturing into food business, we now have a very innovative conception in the form of Bholu, Pakistan's 1st Hygienic Food Chain which deals with desi items like Bun Kebab,Paratha Rolls and even Daal Chawal.
Having a very common and bubbly nick-name for its title, Bholu is an initiative of Jazba Foods.
It started functioning in mid-2013 and is becoming immensely popular with each passing day because it has changed the look of the local Bun Kababs by keeping its true essence with a twist.
Situated in the main hubs of the city in Clifton, PIDC Korangi, and on I.I Chunrigar Road, the outlet manages to bring in many customers because of its affordable rates and quality of food.
Bholu is definitely a blessing in disguise for all office goers especially on I.I Chunrigar Road, who want to grab a quite bite during lunch hours.
MENU:
With 8 varieties of Bun Kebab, visitors can pick from Anda Daal Bun kabab, Aalo Bun Kabab to Chapli and Chicken Boti Bun Kebab. While Anda Bun Kabab and the likes are only for Rs. 49, Chicken Boti and Chapli are for Rs. 99 each.
Similarly Rolls are offered in varieties like Anda Daal, Anda Kabab, Beef Boti, Chapli Kabab etc and the rates also range between Rs. 49 and 99. They also provide the most desi food item, Daal Chawal for just Rs. 69.
To quench the thirst they offer Sweet Lassi for only Rs. 45 and Limon Paani for jusr Rs. 25 along with different soft drinks.
Bholu has an appealing ambience which is not very fancy but simple and desi like the food it serves. Though not to many areas the outlet also delivers to different places in the city like Defence, Clifton, Korangi, Landhi etc and the food can also be ordered online via its Facebook page.
The mission of Bholu is to "provide tasty quality food to the masses in a modern and clean environment. And this is an experience we want to share with every Pakistani" and undoubtedly this idea by Jazba Foods is getting very popular among the people.
You can visit Bhilu at Facebook here.